MUDROS - Private Basil Eames, 1/1 (Queen's Own) Dorset Yeomanry, 2nd Brigade, 2nd Mounted Division, IX Corps - Mudros comprised a small Greek port on the Mediterranean island of Lemnos, and played an important part in the Gallipoli campaign and the ongoing war against Turkey. The port was placed under British control and used as a harbour for both as British and French warships. Although the harbour was fit for this purpose, the island proved problematic in respect to lack of facilities and supplies, really no different than Gallipoli itself.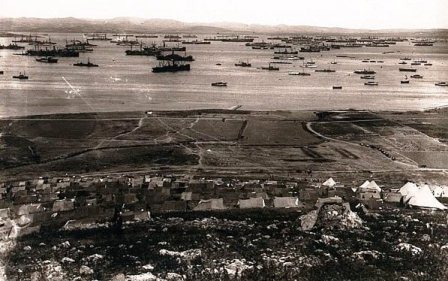 When troops got off of the Peninsula, there was no 'rest' on Lemnos, just a string of fatigue duties bringing stores ashore, building piers, camps and roads, and when this was not occurring, strenuous route marches and training. The 1st and 3rd Canadian Stationary Hospitals, the 3rd Australian General Hospital and other medical units were stationed on both sides of Mudros bay and a considerable Egyptian Labour Corps detachment was employed. After the end of the campaign the island remained the Allied base for the blockade of the Dardanelles for the duration of the war, and it was here that in late October 1918 the armistice between Turkey and the Allies was signed.
Private Basil Eames, 1/1 Dorset Yeomanry, wrote the following letter home in which he described the return to 'civilisation' feeling:
British Med. Exp. Force,
Mudros
Saturday 6 Nov. 1915
My dear Mother,
You will see by the above address that the Division including our Regiment have left the Peninsula and we are now having a well-earned rest on the island of Mudros, which is the intermediate base for the Dardanelles. I sent you a letter about ten days ago telling you that at that time I had been attached to a Company of Royal Engineers for about a fortnight. I rejoined the Regiment last Sunday night and we sailed from Gallipoli on Monday morning November 1st. We arrived at the island during the evening and marching about four miles inland were duly installed under canvas at the rest camp. The voyage to Mudros you might think was a joy ride but not so. We left the shore in a lighter about midnight and on board this lighter we were crowded like cattle. We were then transferred to a larger transport which made the journey to the island. Every available inch of room was occupied and I found myself spending the night down in a hold which had recently held coal, the dust of which lay everywhere. On arriving at the island we were again transferred to a smaller transport which took us further towards land and finally we landed on a small stone pier in small boats. Such journeys as these you must really participate in to fully appreciate the discomfort, etc. It is impossible to describe it properly in this letter. The rest camp where we are now stationed is very pleasantly situated and the great thing is that we are about ½ mile from a Greek village and now that there are troops all over the island every house in the village is a shop. Thus we are able to buy such things as sardines, apples, pears, tinned fruit, eggs, cheese, chocolate, etc. In fact one feels they have come back to civilisation again and I can assure you it is good to be able to make a shopping expedition to the village in the afternoon. Of course we have certain parades every day but nothing very great. Reveille is at 6 am and lights out 9 pm. It is good to be away from the continual noise of rifle and shell fire and where I was stationed with the RE we were shelled every day and I had many narrow escapes.
We were a vastly different crowd that left the Peninsula to those that went there last August. In August we arrived with the Regiment roughly 330 strong. On November 1st after three months campaign we left Gallipoli with the Regiment about 60 strong and the majority of these show signs of active service.
It is November now and I imagine that with you the weather is typical of November. Recently we had bitter cold weather but now it is just like Summer, in fact very hot indeed. Yesterday we went for a route march in shirt sleeves and even then I perspired.
I have no letters to acknowledge from home lately; in fact it is some time since I heard from you. Immediately I receive a letter I will acknowledge by p.c. Now that I have had time to look round a bit I find that I have not written many letters home. I hope you will forgive me. I wish now I had written more but circumstances seem to have been against it. As far as I can remember this is the seventh letter I have written home and so far you have acknowledged two of these, a very short one, one telling you we had been in action and a longer one describing the Battle of Hill 70. I hope by now you have received some of the others. I am glad to say I am feeling fit although troubled with a touch of dysentery. I hope you are all well and in good spirits. I cannot say how long we shall be at the island but suppose we shall return to the firing line again someday.
I will close now hoping you yourself are getting stronger and better every day.
With fondest and best love,
Your loving son, Basil
SOURCE:
Article by B H A Eames, titled "A Letter Home" which featured in The Gallipolian, No.19, Christmas 1975, pp.18-19.