SUVLA - Captain John Gillam, Army Service Corps, 29th Divisional Supply Train - During the stormy night of 31st October/1st November HMS Louis, a British L-class destroyer, accidentally ran aground in high seas at Suvla, just off the spit by Little West Beach. No loss of life occurred, but within days the ship had broken its back and thus a complete loss. Very quickly the destroyer became a target for the Turks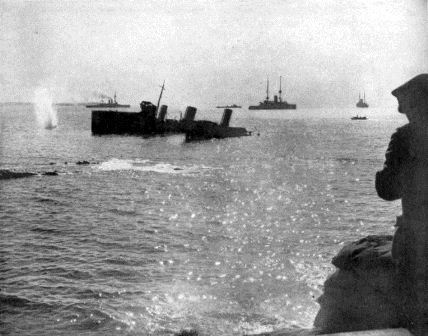 Photograph: By Lt. E. Brooks. Published in The Anzac Book, 1916. "Circulated on behalf of the Press Bureau; supplied by Central News".
In Gillam's diary entry for 5th November he wrote:
"A beautiful, cool summer day. Shelled at ten this morning for quite an hour. The destroyer [HMS Louis] has now completely broken her back, and her stern has disappeared. The Turks discovered the mishap, but they could not see that she is a wreck, as she is "bows on" to the Turkish position. Thinking, therefore, that the destroyer was still intact, though stuck on the ground, they attempted to finish her off, and for three hours shelled her. They only recorded two hits, however, and it was satisfactory to see old Turk wasting his ammunition.
To-day another old friend has gone. He is Way, the 86th Supply Officer [Captain F.R.Way], who has been here since April 25th without ever going sick. He felt rather dicky two days ago, and was told to stay in his dugout, and to-day I find he has developed diphtheria badly. He tries not to go, but a doctor soon settles that. I shall now feel more lonely than ever, for we were great pals, and our walks to our respective H.Q. were among the few pleasures that I could look forward to. When casualties occurred at his dump he was always there to attend to the wounded, and as S.O. the 86th Brigade will miss him. I wonder how many of the old 29th are left. Well, Way is for Blighty, and good luck to him. But Diphtheria is a nasty illness, and I hope he pulls through."
*Captain F. R. Way does "pull through" and survives the war.
SOURCES: Also see link /forum/forum_posts.asp?TID=318&PID=844&title=hms-louis-wrecked-suvla-31-10-15
SOURCE:
J. Gillam, Gallipoli Diary, (Stevenage, The Strong Oak Press, 1989), p.260