ANZAC - Major Edward Cadogan, Suffolk Yeomanry, Attached 54th Division - The initial curiosity of being under shell fire had long departed Major Edward Cadogan, now he has been ashore a few weeks. The danger that hit home was the snipers bullet. Already Cadogan had received slight injuries to his face when a Turkish sniper hit his periscope. He was the lucky one.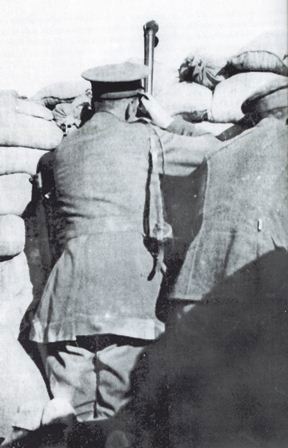 "Up at 3am in the trenches. Fire the trench catapult at dawn with a cordite bomb (near Post 16) to Turkish trenches, which are about 100 yards away. Walter Guinness observes for me and says I am short of the mark. While off duty, one of the men comes to me and asks me to go back to the trenches as young Walker has been shot in the head at the same post where I had the contretemps with the periscope yesterday. I go up to see him. He is able to walk to the stretcher but is groaning a good deal. I walked by the side of the stretcher down to the dressing station. He eyed me curiously and asked me if he was badly hurt. I tried to reassure him. It may have been the last coherent sentence he ever uttered as his wound was a bad one and he has been a helpless lunatic ever since. He was one of the nicest and pluckiest boys in the regiment. He could have had a commission at any time he liked but he said he had made his pals in the ranks and he would prefer to go out with them to the front. He was a great loss to us. I hear from Frank Goldsmith who is in hospital down on the beach. He says it is filthy but he resisted the temptation of being evacuated off the peninsula, which was placed before him. He has a very stern sense of duty and would never leave anyone in the lurch.
Plenty of shells this morning over our trenches and dump. I cannot help smiling inwardly when I remember a month ago at Lemnos anxiously and curiously trying to catch a sound of the guns on the Dardanelles. I need not have been so anxious; a month on end of the sound of shot and shell is quite enough to satiate even the most martial mind.
Doing nothing will wear away the strongest nerve. It strikes me now that modern warfare is either monotonous or terrifying – it is never enjoyable. The monotony is intensified here as there is such a small area to walk about in, but on the other hand, I bound to confess I prefer the monotony of the shells!"
Postscript: I spent some time trying to find out what happened to 'Walker' as in the diary there are no details referencing his full name, or subsequent story post wounding. I believe him to be Private John H. G. Walker, 1605, Suffolk Yeomanry who was discharged from the regiment on 17/6/16. According to his medal index card, in 1920 his father, Mr. A. Walker, asked for his sons medals to be destroyed. Why? It transpires that at this time his son was an inmate of a mental hospital, almost certainly the result of his Gallipoli head wound. It was not uncommon for medals to be unclaimed, and here is probably an example of the pain of 'losing' a son being too much.
SOURCE:
E. Cadogan (edited by K. Charatan & C. Cecil), Under Fire in the Dardanelles: The Great War Diaries and Photographs of Major Edward Cadogan, (Barnsley: Pen & Sword, 2006), p.67.