General Sir Ian Hamilton, Headquarters, MEF - On 22 July Hamilton had his first proper meeting with Lieutenant General Sir Frederick Stopford who had been appointed to command the newly forming IX Corps but was standing in with VIII Corps at Helles. Hamilton was keen to brief Stopford on his new scheme for a landing at Suvla Bay to seize by coup de main the high ground of Tekke Tepe and Kiretch Tepe.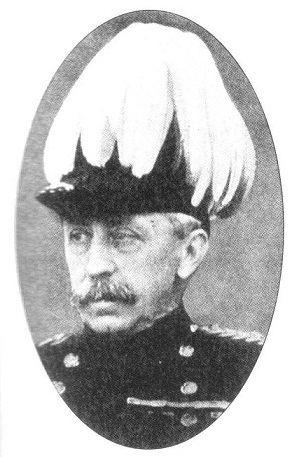 Photograph: Lieutenant General Sir Frederick Stopford, VIII Corps
This was being planned for early August to coincide with the left hook being planned to break out from Anzac and surge up the valleys and ridges up to overwhelm the Turks on the Sari Bair Ridge. It all seemed to go pretty well as far as Hamilton was concerned.
"Had a jolly outing to-day. Left for Cape Helles by trawler just before 10 o'clock. Aspinall, Bertier and young Brodrick came with me. Lunched at 8th Army Corps Headquarters with Stopford and handed him a first outline scheme of the impending operations. We read it through together and he seems to take all the points and to be in general agreement. Left Aspinall behind to explain any questions of detail which might not seem clear, whilst I went a tour of inspection through the Eski Lines of trenches held by the 6th and 7th Manchesters of the 42nd Division. These Eski Lines were first held about the 7th or 8th May and have since been worked up, mainly by the energy of de Lisle, into fortifications, humanly speaking, impregnable. General Douglas, Commander of the Division, came round with me. He reminds me greatly of his brother, the late Chief of the Imperial General Staff; excellent at detail; a conscientious, very hard worker. When I had seen my Manchester friends I passed on into the Royal Naval Division Lines. There General Paris convoyed me through his section as far as Zimmerman's Farm, where I was joined by Bailloud with his Chief of Staff and Chief of[Pg 26] Operations. Together we made our way round the whole of the French trenches winding up at de Tott's Battery. After this whopping walk, we left by pinnace from below de Tott's wondering whether the Asiatic Batteries would think us game worth their powder and shot. They did not and so we safely boarded our trawler at Cape Helles. Didn't get back to Imbros Harbour till 9 p.m. Being so late, boarded the ever hospitable Triad on chance and struck, as usual - hospitality. Hunter-Weston is really quite ill with fever. He did not want to see anyone. As we were sitting at dinner I saw him through the half open door staggering along on his way to get into a launch to go aboard a Hospital ship. He is suffering very much from his head. The doctors prophesy that he will pull round in about a week. I hope so indeed, but I have my doubts. Aspinall reports that Stopford is entirely in accord with our project and keen."
Stopford was quoted in the British official history of Gallipoli as follows: "Tell Sir Ian that I have been studying the situation from available information ever since I left England and this is the plan which I have always hoped he would adopt. It is a good plan. I am sure it will succeed, and I congratulate whoever has been responsible for framing it."
Stopford may have seemed keen but the choice of Hamilton intended to form his new divisions at Suvla into a new corps, IX Corps and there was considerable debate as to who should take command. The first suggestion emanating from Kitchener was Lieutenant-General Sir Bryan Mahon, then leading the 10th Division ( one of five reinforcing divisions on their way to reinforce Hamilton) and therefore already in his way to the Peninsula. This was probably the best and most realistic choice, but Hamilton did not rate Mahon highly enough for a corps, believing he had reached his peak as a divisional commander. It was this decision to reject Mahon for promotion that triggered the disastrous sequence of events that followed. Hamilton boldly asked for either Lieutenant-General Sir Julian Byng or Lieutenant-General Sir Henry Rawlinson, both of whom were attracting much admiration for their performance on the Western Front. For that very reason his request was curtly rejected and in turn Kitchener not only refused to remove Mahon from his divisional command but stipulated that whoever commanded IX Corps must be senior to him. The British Army still made a shibboleth of seniority which could sometimes get in the way of the appointment of younger more competent men. This was especially a problem when most of the most promising generals were already fully engaged on the Western Front. The intransigence of both Kitchener and Hamilton left only Lieutenant-General Sir Frederick Stopford. It was not the ideal method of selecting a leader for a complex operation of war demanding a high degree of leadership qualities, proven military command skills and a steely determination. What they got was a 61-year old man who was in semi-retirement as the Lieutenant of the Tower of London. He was a career soldier, but his career had been of the sort that had not featured the command of troops in action, his expertise had been largely in the field of staff work, valuable but not the skill-set required at Suvla Bay. Mahon would have been a far better choice as Hamilton would find out soon enough!
SOURCE:
I. Hamilton, Gallipoli Diary, Vol. II, (London, Edward Arnold Ltd, 1920), pp.25-26, C. F. Aspinall-Oglander, Military Operations: Gallipoli, Vol. I (London: William Heinemann Ltd, 1929), p.149