Ordinary Seaman Joe Murray, Hood Battalion, 2nd Naval Brigade, RND - Joe Murray had been detached to join the Engineers of VIII Corps. One of the early tasks they were given was sinking wells. They sank a successful well on X Beach but were then moved round to the entrance to Gully Ravine. The well is still there today.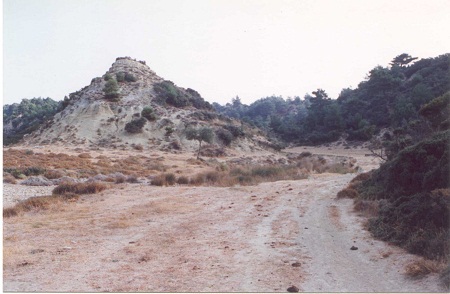 Photograph: The entrance to Gully Ravine today, where the well can still be found and, amazingly, is still in use.
"We had orders to move up the coast to Gully Ravine. Some distance up the ravine we began another well. There was about two feet of sandy soil and then solid rock. It was so dry that we had to walk over a mile to obtain sufficient water to enable us to drill the holes in readiness for blasting. Day after day we blasted in more ways than one but, having reached a depth of 34 feet without even a slight trace of dampness, we gave it up as hopeless. Imagine our surprise when the Engineer-in-charge marked out a spot for another well only a few feet from the white elephant. He said we should have struck water thereabouts and was certain we would be successful with this new well. Strange to say, we found traces of dampness almost at once and at four feet had to bail water all the time to get on with the sinking. At six feet the inrush was so hampering our digging that we decided to cut a trench between the two wells so that the water could run into the first one close by. At 10 feet we haul to abandon all further sinking as we had a supply well and a 34 foot deep container. Our only regret was that it was some distance from the line. We sank several more wells but were never quite so successful as we had been with this one in the gully and the one on X Beach."
SOURCE:
J. Murray, Gallipoli - as I saw it (London, WIlliam Kimber, 1965), p.107