Lieutenant-Colonel William Malone, Wellington Battalion, New Zealand Brigade, NZ&A Division, NZEF - On 24 July William Malone wrote a long letter to his wife Ida. It shows that there was a good deal more to the gruff old soldier than is usually apparent.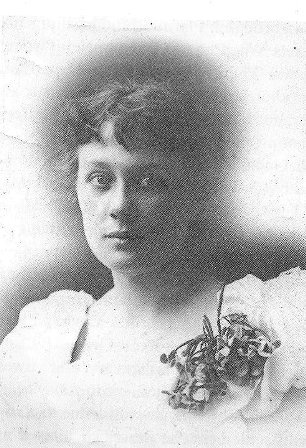 Photograph of Ida Malone
"My darling, I do full well understand what you want me to feel about your love for me, but it is lovely to have you tell me again and again, but sweetheart, it sets up such a longing for you, and I am tempted to come to you at all hazards. But my work soon conquers the temptation and there is all the time some sound here to remind one of one's work. Poor Terry has apparently got a turn for the worse, for he is being sent to England. He was being sent to NZ, but fixed up England instead. He will surely be all right and it will do him good to see you all again. Edmond, has been wounded too, a bullet thro the leg, not serious. I saw him on the Hospital Ship Sicilia 3 days ago, and if all is well may get off for an hour or two to see him tomorrow. He is cheerful and will have no permanent injury. I am glad that his engagement is off. Hope the girl won't take it hardly. Don't worry about me - two Malones out of three must fill the average bill of chances! Yes when 'he' comes for me, as you say, we will take those walks and river jaunts, and I will feast my eyes and lips. As for your confession about your hair - I cannot help smiling a little bit, because dearest I too was thinking and troubling about my grey hairs - nothing but water on them and the strain of things here made me think that probably I should be white by when I rejoined you. I dreaded, being too, too old for you. I am 56 yrs and 7 months, nearly l7 years older than you. But sweetheart, all that is pettiness. We know each other too well to really think that our love and happiness can depend on our hair or mere outward appearance. I love you not your hair or mere looks, and I believe you love g not only the outside of me. So we won't worry, or think anymore about such triviality. All the same dear one, I see in the photographs the line of you and the expression of you and the photos when they show me your beauty - don't lie. And these don't I know how you blossom out, with happiness. And it will be such a happiness, will it not, when we are reunited? If the strain of waiting for me makes its mark as no doubt it may, it will only be temporary and the mark will disappear as my arms go round you and as I kiss you when you meet me at the English wharf of my landing. It will be I that cannot a readily bloom and blossom. War makes hard lines at my age, and I am not fat, not an ounce to spare. Still I will chance your greeting - I may even try and look as worn as I can, because I believe, pity for a man whom a woman loves, makes her love, if possible all the greater. But dearest, I am so well and strong, and I know you don't like fat in a man; I hope your money from NZ turns up regularly, but in any case I expect the Bank will let you overdraw if needs be, on the guarantee I signed before I left NZ. I am glad you liked the flowers. There are none I am sorry to say in this post. Too cut up and hacked about. Still I have a lovely lookout to sea and Imbros. And so your answer, that I will have to make love to you again. Will you be hard to win? Answer that now. "
Poor Malone had only weeks to live and would never see his wife Ida again.
SOURCE:
W. G. Malone quoted J. Crawford, No Better Death: The Great War Diaries and Letters of William G Malone (Auckland: Reed Publishing Ltd, 2005), pp.281-282 & photo of Ida p.29