Sub-Lieutenant Ivan Heald, Hood Battalion, 2nd Brigade, RND, Lieutenant Charles Lister, Hood Battalion, 2nd Naval Brigade, RND - Every so often there could be a sudden flurry as one side or the other tried to improve their tactical position. Small almost unnoticeable features of the landscape could provoke vicious spasms of fighting over disputed barricades - often quite literally. On 20 July the Hood Battalion made an attack along a communication trench that led to the Turkish front line.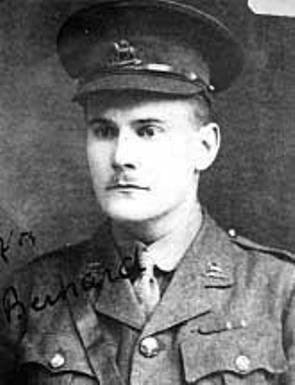 Photograph: Lieutenant Commander Bernard Freyberg, Hood Battalion, 2nd Naval Brigade, RND
The daring raid was organised by Lieutenant Commander Bernard Freyberg. Sub-Lieutenant Ivan Heald described what happened in a letter written on 22 July.
"The day before yesterday, when we were all about done with digging and lack of sleep, my company made a rush up to a Turkish redoubt and made a sandbag barricade in front of it. Lister, who was wounded before we started, led the way. It was wonderfully exciting and I was very happy and exalted while it lasted. Lister has gone away wounded, but only slightly. He is one of the finest men I have ever met, very brave and witty and cultivated, Arthur Asquith is another fine chap, very plucky and efficient. He was second in command of the battalion when we came out of the trenches. We had two officers killed, two wounded, and a few men killed and wounded. There are now only nine of the Benbow officers left out of the thirty who came out with me, and only two of the Collingwood's. There is a strong rumour that the RND will be taken away for a rest. Lots more troops have arrived. Send me things to read and interesting things to eat."
 The rush along the communication trench was led by Lieutenant Charles Lister and Sub-Lieutenant William Egerton. Here is Lister's account
"The artillery an Australian battery and the French - shelled the advanced Turkish post for about twenty minutes while we massed, with a covering party of men with bombs and bayonets and a main body of men with sandbags, in the trench, ready to rush out up the old communication trench and push our sandbag barrier still farther forward. It was not feasible to take the Turkish advance post, as it could not be held in face of Turkish guns on the hill slope opposite. Our shelling was magnificent. We realized the importance of rushing in immediately our shelling ceased. But as it turned out we were rather too close, for a shell fell among our people and buried six of them, who were, however, dug out unhurt or only slightly wounded. The shell luckily did not burst. This was followed by a Turkish shell which fell right in the middle of us as we were all crouching for the rush, hit Freyberg in the stomach, killed another man, and covered me with small scratches, which bled profusely at the moment. We had by now got to our original barrier, so I got our covering party out and rushed them up the trench over quite a number of dead Turks. We stopped our men just short of the Turkish advanced post: threw bombs and at once started the new barrier - not a Turk in sight. The snipers, however, soon came back and made work at this point difficult, so we moved back and contented ourselves with a gain of about 40 to 50 yards on our old position. I have been hit in about six places, but all tiny little scratches."
 Once again Lister was evacuated for medical treatment on Imbros.
"I am in the hospital at Imbros, a most delightful island, full of lichen-covered grey rocks, trees, and orchards-every sort of delicious fruit-and a glorious blue sea. It is much cooler even down here near the beach than the Peninsula, and a real land of plenty. The hospital people are most kind and put themselves out in every way. I get Guinness's stout for dinner. I am reading d'Annunzio's Trionfo della Morte - apart from his luscious and eloquent treatment of the passion he is supreme at describing the drear life of the provincial noblesse of Italy and its underlying dramas of squalor and pathos. He is tedious when he goes too deeply into the morbid psychology of his heroes."
 Behind him the VIII Corps was getting nowhere fast at Helles.
SOURCE:
I. Heald, Ivan Heald: Hero and Humorist (London: C. Arthur Pearson Ltd, 1917), p163-164,