ANZAC - Lance Corporal William Lycett, 4th Field Ambulance, Australian Army Medical Corps, AIF - His diary entry for 26 August shows that the aftershocks of the August battles were beginning to die down. 4FA HQ Gully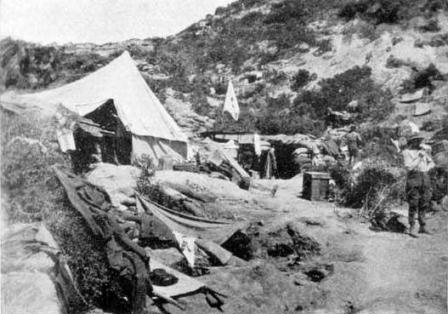 Photograph of 4th Field Ambulance in Headquarters Gully
Will Lycett migrated in 1920 to Australia from Middlesborough with his parents, five brothers and one sister. He had previously served his apprenticeship as a boilermaker alongside his father in the Railway Workshops at Crewe. He enlisted on 12 September 1914. His diary entry for 26 August shows that the aftershocks of the August battles were beginning to die down.
"Up at 6 a.m. and on duty at 7 a.m. Have been fortunate with regards to weather so far, had about a dozen spots of rain during night. Have about sixty patients in two large tents, none serious, mostly men needing a rest as they are completely done up. Meal times are the busiest for us and it takes us some time to get the meals over. Fairly quiet all morning, just few shells. Went for swim this afternoon and our camp was inspected by the A.D.M.S at 4 p.m. (our late Colonel). Was getting ready to knock off at 7 p.m. when 50 more patients arrived, had to feed them. lightning very heavy tonight, looks like a storm. Seems to be a small engagement on tonight, rifles cracking sharply." (Lance Corporal William Lycett, 4th Field Ambulance, Australian Army Medical Corps, AIF)
 The ADMS mentioned was Colonel Joseph Beeston who had only just been promoted away from the 4th Field Ambulance. He was very proud of his men.
"Early in August, soon after Colonel Manders was killed, I was promoted to his position as Assistant Director of Medical Services, or, as it is usually written, A.D.M.S. On this I relinquished command of the 4th Field Ambulance, and though I appreciated the honour of the promotion yet I was sorry to leave the Ambulance. We had been together so long, and through so much, and every member of it was of such sterling worth, that when the order came for me to join Headquarters I must say that my joy was mingled with regret. Everyone - officers, non-commissioned officers and men - had all striven to do their level best, and had succeeded. With one or two exceptions it was our first experience on active service, but all went through their work like veterans. General Godley, in whose division we were, told me how pleased he was with the work of the Ambulance and how proud he was to have them in his command. The Honour list was quite sufficient to satisfy any man. We got one DSO, two DCMs, and sixteen "Mentioned in Despatches." Many more deserved recognition, but then all can't get it. Major Meikle took charge, and I am sure the same good work will be done under his command. Captain Dawson came over with me as D.A.D.M.S. He had been Adjutant from the start until the landing, when he "handed over" to Captain Finn, D.S.O., who was the dentist. Major Clayton had charge of C Section; Captains Welch, Jeffries and Kenny were the officers in charge of the Bearer Divisions. Jeffries and Kenny were both wounded. Captain B. Finn, of Perth, Western Australia, was a specialist in eye and ear diseases. Mr. Cosgrove was the Quartermaster, and Mr. Baber the Warrant Officer; Sergeant Baxter was the Sergeant Clerk. To mention any of the men individually would be invidious. They were as fine a set of men as one would desire to command. In fact, the whole Ambulance was a very happy family, all doing their bit and doing it well."
Internet source: . L, Beeson, Five Months at ANZAC
http://www.gutenberg.org/files/15896/15896-h/15896-h.htm#gallipoli
SOURCE:
http://www.anzacs.net/Anzac-Diaries/1915/August1915.htm This dairy appears on the ANZACS website and was edited by John Woods. Copyright is owned by the grandson Tim Lycett.