SUVLA - Lieutenant C. A. Cooke, Army Service Corps, 29th Division Private Harold Thomas, 3rd East Anglian Field Ambulance, 54th Division - Parcels from home were eagerly awaited but many families forgot to take into account the time taken to deliver them to Gallipoli. The results could be terrible as Lieutenant C. A. Cooke recalled!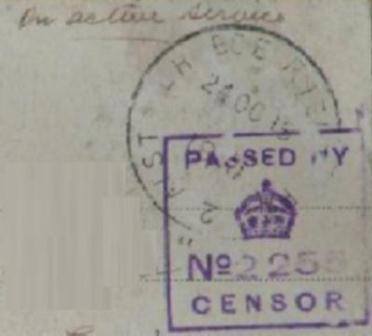 "Received a parcel - on undoing the paper wrapping discovered an oblong tin inside. Opened this and immediately had to retire to my support trenches owing to the perfume. We made an attack again later, but failed to identify the contents which were much decomposed. We were therefore reluctantly obliged to bury the remains, and the contents of the box are therefore a mystery."
In a similar theme Private Harold Thomas realised that an otherwise reasonable selection could be ruined by one blunder.
"I once saw a parcel consisting of cigarettes, cake, socks and soap into the midst of which a bunch of a dozen bananas had been inserted some six weeks earlier when the consignment had been proudly despatched from an enthusiastic but woefully ignorant English homestead. That parcel would have been a good illustration for the phrase 'the bondage of corruption' even the socks seemed to have surrendered to the general dissolution."
SOURCES: IWM DOCS: H. A. Thomas Memoir, p51.
SOURCE:
IWM DOCS: C. A. Cooke, Typescript diary, 3/10/1915