SUVLA - Lieutenant George Hughes, 5th Dorset Regt, 34th Brigade, 11th Division - On 21 November the weather was getting worse and Lieutenant George Hughes of the 5th Dorset Regiment had a long day when he got permission to break the tedium of trench life with a visit his friends (Jim and Gordon) serving with the Scottish Horse.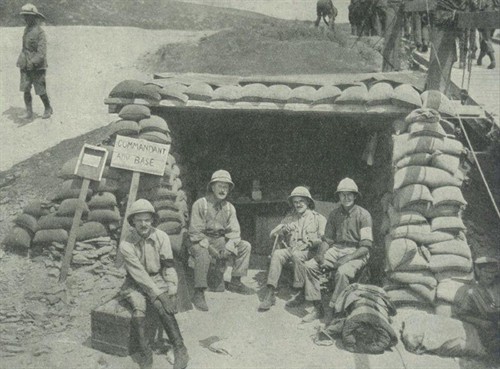 "The morning of the 21st was very cold with a strong gusty dry north wind. I started with bread and milk my daily diet now, though the supply of milk was getting alarmingly short. About 10.30 Pearce and I set off together, the wind behind us end soon reached the place by the old hospital clearing station down below. I had my greatcoat and took Bovril, Pearce took cheese for dinner. We beat our way along the beach for about a mile when the sand became so soft that we were driven inland. So we proceeded over the Engineers bridge which forded the neck dividing the sea from Salt Lake along an interminable corduroy road, up the slope of Lala Baba. Here I saw Scottish Horse chaps and thought we had reached a haven, but it was only a post end we were directed to cross Lala Baba, then skirt Salt Lake and keep to the track across the marches for 2 miles till we came to the oak tree. There was very little movement on Lala Baba. Papers and refuse and sand were flying about helter-skelter in all directions but nothing in the shape of heavier missiles. It wee strange to get a glimpse of the Salt Lake and the Anafarta Ridge from a new point of view. The Anzac Ridge looked very forbidding. At about l.45 we arrived at some trenches where the Lovat Scouts were posted; information was given freely, but in every case turned out to be so inaccurate as to be worse than useless. We also met some Devon Yeomanry and here I thought at least I should be helped as we had met them at Jephson's Post, but a Redcap came along and prevented discussion. I had nothing for it but to ask him and he again misdirected me. None of Scottish horsemen seemed to know the position of their squadron. Eventually, after about ¾ hour, zigzagging up and down the labyrinth. I saw Gordon's heed pop up from the recesses of the ground and he greeted me as if I had dropped in for afternoon tea in Trinity. His dugout was in much the same states as the average college room, with food, books, papers end articles of clothing in heaps on the floor. I handed over Pearce to his servant, and was amused to think of the mutual exchange of repartee, the one in broad Scotch, the other broad Dorset. I gathered after, from Pearce, that conversation had been anything but free, and that he had been too shy to point out that he had had nothing to eat. I soon had a cup of hot Bovril, and Bath olives supplied by Gordon, and he had a huge cake, a last investment at Alexandria before his return. He told me of his wound and Egypt and we spoke of Vanity Fair and how distasteful trench warfare was to both of us. Jim was drawing a plan of his squadron trenches at short notice, a very necessary measure judging from the difficulties I went through in finding him. About 3.15 I felt very anxious about getting back before dark. There was a cruel wind blowing, occasional shells were dropping behind us, and altogether the dust, the cold and my enfeebled condition made the prospect of an 8 mile walk back anything but pleasant. we found our way to Jin's dugout, a large one with a raised stone bed on one side of it, and he soon appeared much more youthful than Gordon, effusive and full of vigour and efficiency. In fact a very health giving sight to the feeble. We sat side by side on his bed and I couldn't drag myself away until nearly 4. We then all started off together with Pearce across the open, contrary to all rules. The dreary open plain, studded with marsh plants, grey Salt Lake in distance on right, Anafarta Ridge away on right, and choking gusty wind. They came about a mile then we said goodbye and I photographed them both in truly characteristic poses. Pearce and I trudged on this time skirting Lala Baba alongside the Salt Lake, where we escaped for a short time from the wind. Pearce was tired, but always wanted to carry my coat and would have carried me too if I had asked him, he was obviously concerned about his evening meal, and was all for pushing on as it was getting dark. Our rests had to become more and more frequent though, and it took more and more determination to get up after sitting down in a sheltered place. We got badly lost by Divisional HQ and stumbled up the hill through the scrub and at last got hone. I lay in my dugout, Pearce cooked something hot and I slept the sleep of the just. But it was a hard day.
SOURCE:
IWM DOCS: G. R. Hughes, Typescript account, pp.58-59.