HELLES - The Army Service Corps had a never ending task trying to attend to all the logistical needs of the best part of an Army Corps from W Beach where there was only a few rough piers and they were constantly under the threat of artillery fire to boot! Gillam was running backwards and forwards throughout this period to an advanced supply depot located at Pink Farm. You can still see much evidence of a depot to this day just past the Pink Farm Cemetery. Wagons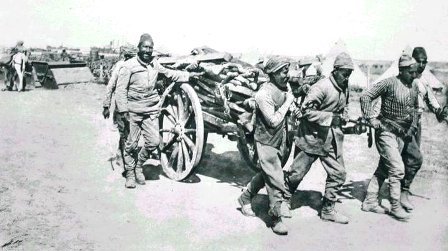 June 7 was Just another day for Captain John Gillam.
"Heavy gun with -high explosive kicking up a devil of a row all day, but not reaching the beach, bursting in the valley on the way to Brigade H.Q. Plenty of artillery duelling all day. Asiatic battery fires on transports and hits one several times, setting her alight, and she now has a heavy list on. French crew rush to boats and clear off quick. British torpedo destroyer goes alongside, puts crew on board the transport, and they put out the fire. All transports move further out to sea, and Turkish battery shuts up. I have to feed the prisoners, and a party of them come up to our depot under a guard to draw rations. Transport is provided by two G.S. wagons. There are ten of them in the party, and one of their N.C.O.'s. They fall in in two ranks, and wherever I move they follow me with their eyes. I then motion to their NCO to load up a certain number of boxes. He gives an order in Turkish, and they load up in remarkably quick time. They are then fallen in by their NCO, and one of them who is rather dilatory is pushed into his place by the others. Marching in front of their G.S. wagons, they go back to their barbed wire enclosure. They appeared most anxious to do the right thing. Many of them were raggedly clothed, with their boots almost out at heel. No shelling during night." (Captain John Gillam, Army Service Corps, 29th Divisional Supply Train,  W Beach).
SOURCE:
John Gillam, Gallipoli Diary, (London, George Allen & Unwin, 1918), pp. 125-126