HELLES - As the retreat from Helles began the artillery were filtered away as unobtrusively as possible. Gunner John Gunn left on the night of 3 January.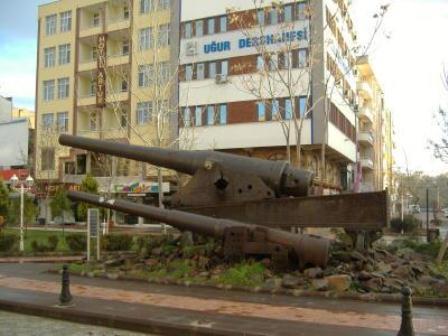 Photograph: Turkish guns now to be seen by visitors to Cannakale.
"Asiatic Annie shelling as usual and also Black Maria from Achi Baba off and on all day so we paraded at 9.00pm and marched down to the beach at Sedd-el-Bahr and were going under cover every wee while as Asiatic Annie keeps spitting across so we had to hang on till one in the morning until we got off the River Clyde in a lighter which took us out to the Princess Ena lying out of the range of fire. We got on board of her and we had to squat down on the deck anywhere and there was a cold biting East wind blowing, and oh we were shivering, but we sailed to Lemnos and got on board the SS Caledonia on the forenoon of the 4th January and we sailed that night for Alexandria." (Gunner John Gunn, 14 Siege Battery, Royal Garrison).
SOURCE:
IWM Documents: J. Gunn, Typescript diary, 3/1/1916