HELLES - Taking the opportunity of the calmer weather the Royal Engineers were hard at work as ever, on December 22, this time repairing the piers off W Beach. The piers here, and further along on V Beach, were the main supply entry points at Helles; they would soon be the main exit points as well.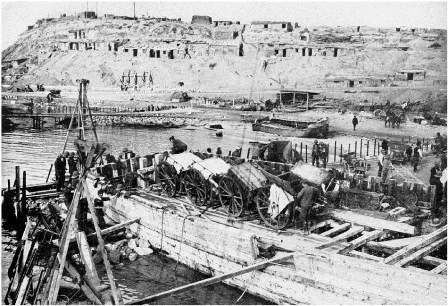 "It is quite calm now and a fine day; thus we are given an opportunity of digging the mud out of the trenches and to work on a system of drainage. But we want roofing badly. Unlike " V " Beach, now a perfect harbour, safe against almost any sea, " W " Beach at the first heavy swell becomes impossible for landing any supplies. Engineers are busy as usual on the piers, not on construction, but on the work of repairing the damage done by each spell of rough sea. The storm that we experienced at Suvla did not spend its fury on Helles, though they felt the outskirts of its force here so much so that the flimsy piers off " W" Beach were almost washed away, and for the time we depended on the courtesy of our French Allies to land stores and supplies on " V " Beach. No.1 Pier here, however, is fairly safe, for we have two small ships sunk at the end, set at an angle, forming a breakwater; but they are too small to make the harbour as secure as the one at " V " Beach. We should have sunk ships six times as large. All along the shore off " W " Beach lighters lie three deep, washed up by past spells of rough weather." (Captain John Gillam, Army Service Corps, 29th Divisional Supply Train)
SOURCE:
J. Gillam, "Gallipoli Diary", (Stevenage, The Strong Oak Press, 1989), p.304.