HELLES - On the 21 December the Royal Naval Division were moved to the right of the line to take over the positions formerly held by the French who were being withdrawn from the Peninsula. Sapper Eric Wettern of the No 2 Field Company, Royal Engineers took stock of their new situation.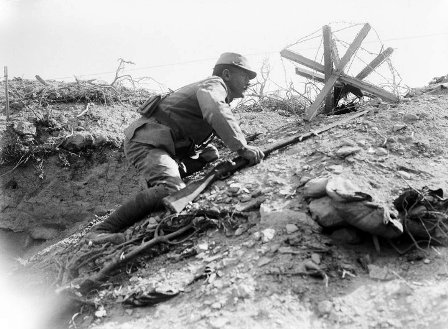 "I round to get acquainted with the new sector. This trip was rather humorous since Johnny was not supposed to know that the French had gone and that we had taken over, and when we got to exposed parts of the line we had to don French caps, which did not suit our style of beauty at all. Considering that at certain points Johnny had an excellent view, not only of our caps but of our boots as well, it was a somewhat feeble disguise!" (Sapper Eric Wettern, No 2 Field Company, Royal Engineers, Royal Naval Division) 

Lieutenant William Ker of the Hawke Battalion reflected on the move and casually referred to his noble allies as 'cannibals'!

"We are installed, if not settled, in the new camp, which was till lately, all too lately, occupied by the Cannibals. We are back in the region of white sandstone and olive trees. We are pretty high up, and have a fine view of Achi Baba, our old camp, Morto Bay, the Straits, and the Asiatic side. There is a good deal of tin roofing about, and we should be able to keep fairly dry. Our company is particularly lucky in this way. We are very cramped at present. The men are like sardines, but, like sardines, they are under tin, so they prefer this to the roofless roominess of the other camp. There are not enough officers' dugouts, and they are very small for two to share. Two feet below the surface of the ground you come on sandstone, which makes the digging very hard. The stone has to be howked out in chunks, and is used to make walls for the dugouts, with mud for mortar. There are no sandbags. There are wooden doors on the officers' dugouts, and windows in some - not in mine, which would be all right if it did not remind one so strongly in appearance and in smell of the tomb. We shall have to get some more places dug, especially as we are threatened with another draft (we a1ways are) in the near future. It is fine weather (several magnificent days and nights lately), but there is a very heavy dew at night, and it is as well to sleep under cover of some kind " We go up to the trenches tomorrow (Wednesday), so we shall have had twelve days out for our nine in. We have spent all our time preparing to move, moving and recovering from the move; shifting camp is a great nuisance. To me the salient feature in the attitude of the men here is that it's never occurred to them that we may be beaten by Turks or Germans, or anyone else. The psychology of the ordinary Tyneside or Paisley man in the ranks is sufficiently impenetrable. The journalist who has to get copy from the front gets. over a little difficulty like this by inventing a complete set of thoughts and views for him. The men know that blunders have been made, are being made, and will be made, and they seem to regard their superiors in proportion increasing, according to rank, with a tolerant scepticism. It never enters their heads that they will not ultimately beat the Turks or Germans, staff or no staff" (Lieutenant William Ker, Hawke Battalion, 1st Naval Brigade, RND)

OTHER SOURCES: 

W. Ker quoted by D. Jerrold, "The Hawke Battalion: Some Personal Records of Four Years, 1914-1918", (London, Ernest Benn Ltd, 1925),p.103.
SOURCE:
IWM DOCS: E. F. Wettern, Typescript account, p.25.