SUVLA - Captain John Gillam, Army Service Corps, 29th Divisional Supply Train. On December 4, Gillam was also observant of the increased Turkish shell fire, which was a direct result of Austro-Hungarian and German guns and munitions now reaching their ally Turkey in large amounts. This was a direct result of Bulgaria, the last nation to enter the war against the Entente, joining the Central Powers in late October 1915, and opening up a land supply route previously denied to the Ottoman army.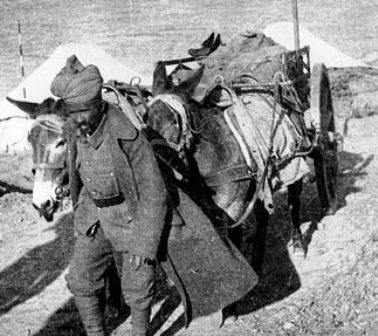 Photograph: An Indian AT Cart at Anzac.
"A very calm day, cold, cloudy, and dull. All last night there was quite a lot of rifle fire and bombing. Starting at daybreak, Turks get very busy with shrapnel, of which they appear to have plenty. At midday they are bombarding our position very energetically. We reply, and the battleships join in. In the afternoon our neighbourhood is shelled with these new high explosive shells, one shell dropping in our Supply depot ; but no one is hurt. Dusk, and all is quiet. A relief. Poign Destre leaves Peninsula. Lucky devil ! We have shipped off to-day a lot of base kits, surplus baggage, ordnance stores, and even food supplies, by means of the A.T. carts and on the tramway running in the sunken trench. A.T. carts returning empty from the trenches have been bringing large quantity of surplus kit and stores away during the last few nights. Under the cover of the protecting mounds of earth they have been off-loaded on to lighters, which with no attempt to disguise their intentions have been towed out to supply ships, making fast on the side away from the enemy, their cargo being loaded by the ships' derricks into the various holds. Very little of this work has been done so far, but it is obvious to all that we are evacuating in the near future. I can't describe our feelings. Up to a short time ago stores were being busily unloaded day and night, and now the reverse is happening. It is as if a High Commander had suddenly shouted the order, "As you were."
Gillam continued his thoughts:
"It is evident that the Turks are now getting regular supplies of ammunition, probably direct from Germany. We are looking to Russia. If only she can come through Rumania and attack Bulgaria in the rear and cut off Turkey, Turkey is finished. We get rumours that she is through, and are rather looking towards her as a besieged city looks towards its deliverers."
Unfortunately Russia was in no fit state to help the British, and talk of her attacking Turkey in force were just rumours.
SOURCE: J. Gillam, "Gallipoli Diary", (Stevenage, The Strong Oak Press, 1989), pp.284-285.
SOURCE:
See above