SUVLA - Corporal Claude Edward Wedlake Brayley, RAMC, Attached 54th Division, IX Corps, wrote home on December 5th about the past few days at Gallipoli. In this letter he described the terrible storm and conditions his stretcher bearer party had to endure.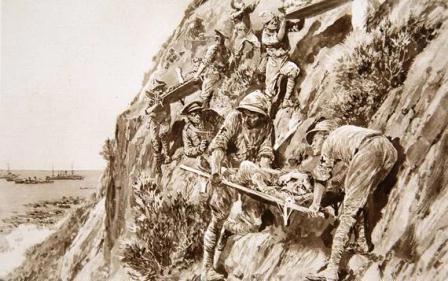 "If I could only describe to you what we have been through during the last ten days, but words fail. It commenced with a terrific gale followed by sheets of rain such as you cannot imagine in England. In no time blankets and kits were under water. And it was night! This was followed the next day by a terrible frost and a snow-driving wind. Then commenced our work. Four of us last Sunday with a stretcher, in a biting wind, lost round the snowy, slushy Great Salt Lake, making for the trenches.  And when we got there! Mud and misery! Jack Frost had done his diabolical work, and quicker than army shells; men old in a night with exposure, knee deep in mud and water.

We got our case back poor fellow. Three miles stretcher-bearing, such as I have never seen before. We often went over our knees in the Lake. Imagine our boots, socks, puttees and trousers! I was in wet clothes for three days. Most of our stretcher-bearing is done at night, and three nights ago we got lost round the Lake which is a large expanse of water, varying considerably in size according to •the weather. We ended up on heavy muddy ground and continually got stuck with our loads and more than one fell with a stretcher case on top of him and had to be pulled out! I shall never forget that stretcher-bearing, foaming and sweating as in death throes.

We have reinforcements from Mons and Dixmude here. Never, they declare, did they do such work in France. When I think of the number of men I have seen brought low by that storm, the work of man in this war grows puny compared with that of nature and the elements. Now for the moment all is quiet. We have cleared the cases of frostbite, etc. - I dare not tell you how many. In August we attended to the terrible havoc wrought by machine guns and shrapnel. In December we have fought the ravages of ice and frost and I can hardly say which has been the greater."

SOURCES: Article by veteran Corporal, later Captain, C E W Brayley MBE, RAMC, published in the The Gallipolian, the journal of the Gallipoli Association, titled "EXTRACTS FROM HOME LETTERS FROM GALLIPOLI, 1915", No.12, Autumn 1973, p.16.


SOURCE:
See above