ANZAC - HILL 60 - The Turks were determined to regain their viewpoint and attacked all through the night. It was a desperate fight with no quarter given by either side. Sergeant John McIlwain was sent forward with the meagre reserves of the 5th Connaught Rangers. This is his diary entry for 28 August.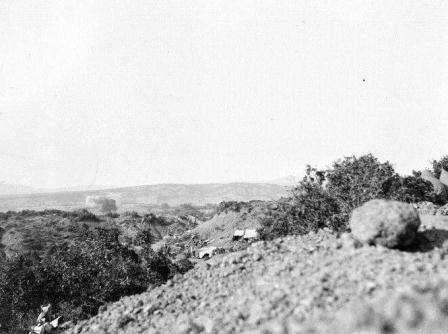 Photograph: Turnbull Library Photo probably shows the view looking over Damakjelik Bair towards Hill 60, Suvla Plain and the 'W' Hills. The battle for Hill 60 may be in progress. Shell explosions can be seen in the distance. Photograph taken by James Cornelius Read, in late August, 1915. http://mp.natlib.govt.nz/detail/?id=41289
"I take my party over the top in rear and with about twenty men occupy portion of trench nominally Australian as many wounded Anzacs are there. Not long there when Turks bomb us from front and left flank, also snipe us along the trench from left. My men with few exceptions panic-stricken. By rapid musketry we keep down the bombing. My rifle red almost with firing. By using greatcoats we save ourselves from bombs. Turks but 10 yards away drive us back foot by foot. I have extraordinary escapes. Two men killed beside me in the narrow trench and I am covered head-to-foot in blood. Casualties alarming and we should have fought to the very end but for the 18th Australian Battalion, a party of whom jumped in amongst us and held the position until reinforced. When able to look about me I find but two Rangers left with me. The rest killed, wounded, or ran away before or after the Anzacs had come. Struggling all night: consolidating, firing, and looking out. Anzacs abusive for the Rangers having lost trench. The most awful night of my life." (Sergeant John McIlwain, 5th Connaught Rangers, 29th Brigade, 10th Division)
 For all the fighting, Hill 60 was still not secured. Neither side had control of the low feature.
SOURCE:
IWM DOCS: J. McIlwain, Diary, 28/8/1915