SUVLA - From an unknown 7th Dublins Pal at Suvla Bay - 10th (Irish) Division, IX Corps - With the exception of 11th Manchester's advance during the 6/7th August, Kiretch Tepe (also known as Kizlar Dagh) was paid little attention by either side. But with failure and stalemate on the plains below, attention was soon turned to this ridge. The attack by the Irish on 15th August brought limited success on the northern slopes and, along the crestline, the Turkish defensive work known as The Pimple had been captured.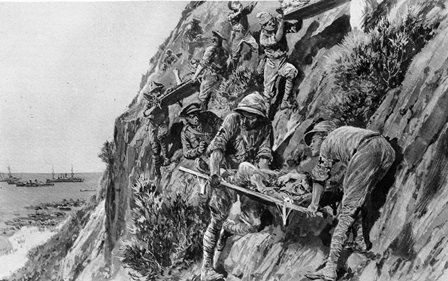 During the night of 15/16th August the Turks began a series of ferocious bomb and bayonet attacks. The Irish and English troops resisted gallantly and, with grim determination, held back the Turkish onslaught. But soon their meagre supply of jam tin bombs, that the Irish had been using, ran out. This critical point in the defence witnessed men bravely trying to catch and throw back the Turkish bombs, and in frustration sometimes even rocks. It was soon realised that the Irish position was one of hopelessness; blood and brawn would not be enough.
From an unknown 7th Dublins Pal at Suvla Bay:
"The platoon was rushed into that deadly corner on the ridge overlooking the Gulf of Saros about an hour before daylight. The place was already a shambles and we could almost shake hands with the Turks, who were behind the low stone earthwork armed with bombs. I remember how sore my shoulder had become with firing, when three bombs, one after the other, fell four feet away among the stones on the steep slope of the ridge. After scrambling to reach the third as it rolled, I received a blow in the chest from the explosion which made me helpless for about eight hours. I remember the 7th Dublin's being relieved, but could not follow, and saw dead and wounded in the grass and scrub fire that took place subsequently. Failing to get more than a few yards towards safety, I decided to lie in the scrub all night and at dawn make good my escape. I had no water, as my water-bottle had been smashed by a bomb. Next morning, after much trouble and excitement avoiding hidden snipers, whose bullets often whizzed unpleasantly close, I found water, and safety, by getting down the cliff to the beach - travelling along the latter waist-deep in water sometimes, and then swimming round the headland, where the Navy were very busy pumping fresh water ashore."
SOURCE:
H. Hanna, "The Pals At Suvla Bay: being the record of "D" Company of the 7th Royal Dublin Fusiliers" (Dublin, 1917) PP.111-112.