SUVLA - Private Horace Manton and Private Harold Thomas, 1/5th Bedfordshire Regiment, 162 Brigade, 54th Division, IX Corps - The 15th August would be 162 Brigade's baptism of fire. In support of the 10th (Irish) Division on Kiretch Tepe, the Brigade was tasked with the capture of Kidney Hill, a spur that jutted out to the south. Leading the advance were the 1/5th Bedford's, a Territorial unit that had a difficult task ahead.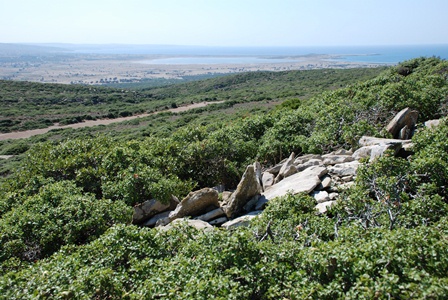 Photograph: The view taken in August 2010 from a Turkish trench (in the foreground lined with rocks), looking towards the scrub covered slopes over which the Bedfords advanced. To the immediate left is the south-eastern slopes of Kidney Hill, with the Salt Lake and Suvla Bay in the distance.
The ground on this slope was thickly scrub covered and criss-crossed with fissures and deep gullies. Keeping cohesion in the line would prove difficult, so with this, the sweltering heat of August and the intense Turkish rifle and machine gun fire, it was not long before the attack floundered. But, over and over again the Bedford's tried to take the hill, but each time the Turks kept at bay. Casualties were so heavy that for one company all they had to lead them was a Private, as all officers and NCOs were dead or wounded. At one stage Brigadier-General de Winton, GOC 162 Brigade, led the Battalion forward, spurring them on once again, but he too was wounded.
Private Horace Manton, 1/5th Bedford's wrote:
"We'd got no cover at all. One of the lieutenants was going aside of me. We were in open formation. He got shot while we were going up the hill, I said: "Do you need any help Sir?" He said: "No, carry on, don't break the line." Our commanding officer, Colonel Brighten, got through alright. He gave us the name of the Yellow Devils. We got to the top and then we got blasted by shrapnel. I saw my cousin get killed in front of me. He was crying when he got shot. It killed him anyhow; he was only sixteen. How I missed it I don't know, shrapnel was flying all the time."
Private Harold Thomas, 1/5th Bedford's, wrote of the events that night:
"I remember the tremendous crash of rifle and machine-gun fire close to us and the 'thump' 'thump' of bullets and sparks flying from stones while an officer, sergeant and six of us pushed through the scrub towards the curve of a hill which showed up darkly against the night sky. Between the bursts of fire the silence was broken by agonizing cries which will always haunt me: seemingly from all about that hill there were voices crying 'Ambulance' 'Stretcher-bearers' 'Ambulance' 'Oh damn you my leg's broken' and then again 'Stretcher-bearers.' It was horrible, we would start for a voice and it would cease and another far away would begin. That hill-side was a shambles: evidently there had been a fierce hand-to-hand fighting there a few hours ago, rifles, kits, water-bottles, khaki, Turkish tunics and headgear were strewn among the scrub. While we were following a phantom-like voice we came suddenly on a half dug trench which an RAMC officer had made into a combined mortuary and first aid station; there we set furiously to work sorting out the dead from the living; there reeled among us out of the darkness an officer raving, 'My men have taken that bloody hill but they're dying of thirst.' He passed on and we continued our ghastly work."
On Kiretch Tepe itself the 10th (Irish) Division also had a difficult time, but achieved an advance on the northern slopes of almost a kilometre, but with 162 Brigades failure to take Kidney Hill, this left the line in a "Z" shape along the ridge that night. All the Territorials could do was to pull back, but higher up on Kiretch Tepe the battle was still raging.
SOURCE:
E. Rimmer, "The Story of the First - Fifth Bedfords" (1917) and the excellent website http://bedfordregiment.org​.uk/