SUVLA - Lieutenant Warren Hertslet, 1/10th London Regiment, 162 Brigade, 54th Division, IX Corps - The Suvla operations were floundering but an attack was planned by 10th (Irish) Division to improve their position on Kiretch Tepe on 15th August. At the same time the 162 Brigade of 54th Division were to advance at the same time, acting as a flank guard, to capture Kidney Hill to the immediate south.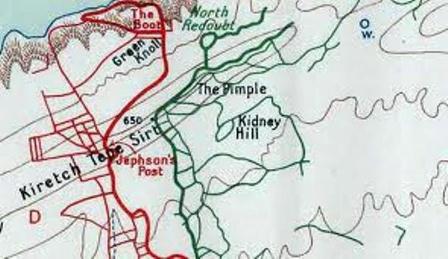 On the 14 August, the day before the attack one doomed officer, Lieutenant Warren Hertslet of the 1/10th London Regiment, was putting the finishing touches to a diary letter home. It makes for rather sad reading.
"I hope my regiment will make a good show. Of course it is a tremendous moment in the minds of us all. None of us know how we shall stand shell and other fire in the attack. I personally feel very doubtful about my prowess in the bayonet charge. Well, by this time tomorrow I shall know all about it or shall be unconscious of that or anything else."
Hertslett was the 36-year old son of Frank and Harriett Hertslet; husband of Frances Gertrude Hertslet, of 43, Cyril Mansions, Prince of Wales' Road, Battersea Park, London. He was indeed killed next day on 15 August 1915. He has no known grave but is commemorated in the Green Hill Cemetery.
SOURCE:
IWM DOCS, W E Hertslet, transcription of letter, 14/8/1915