Annual Gallipoli Conference Report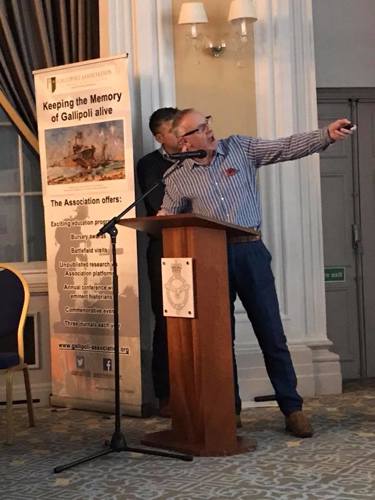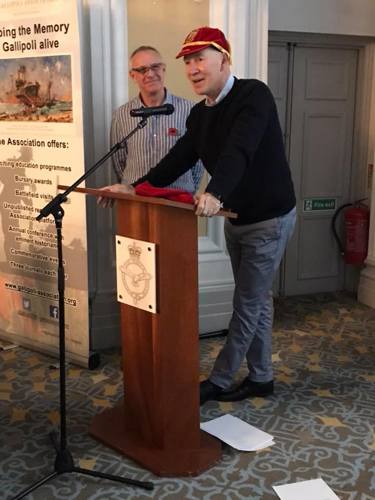 Gallipoli Association Annual Conference
The RAF Club - Piccadilly, 3 November 2018 
The Association enjoyed its 7th Annual Conference at the Royal Air Force Club at 128 Piccadilly on Saturday 3 November 2018. In this the RAF's centenary year, and with airpower being one of the topics, the Club proved to be the ideal venue – friendly, comfortable and steeped in history – we could not have been better looked after. 
Our thanks go to Thomas Iredale, who hosted the event for us at the Club, and to our Historian, Stephen Chambers, who arranged a superb and diverse selection of speakers which provided some wonderful, original and thought-provoking presentations. It was a day rich in detail looking at diverse aspects of the campaign.   With over 70 delegates attending this conference, we enjoyed a most stimulating and rewarding day which highlighted the continued relevance of studying this campaign.  The presentations highlighted the 1915 challenges of geo-politics, diplomacy, technology innovation, logistical stretch and the human dimension of military operations, all factors which are as relevant today as they were 103 years ago. 
Our first speaker was Mike Crane who spoke to us about Mapping the Helles Battlefield – A journey of Discovery.  His most illuminating presentation showed how by combining contemporary mapping, including battlefield maps, with Google Earth allowed further study of the battlefields which reveals new treasures.  He highlighted the remarkable story of the Bolton Brothers, whose great-nephew, Lord Hacking, attended the conference.  Mike was able to identify where Captain Hargreaves Bolton, 9th Manchester's, had been killed and, with some confidence where he would have been buried, although no grave exists.  
His new study of the maps and relating them to the topography also revealed the very personal stories of where Colonel EP Smith, grandfather of James Watson-Smith, died as well as the final moments of Major Adam Sutcliffe who perished at the Third Battle of Krithia.   A most moving moment was the blowing of Major Sutcliffe's whistle in the conference and the story of it being blown precisely 100 years on from that fateful advance at exactly the position it was last heard on the battlefield.  
These stories of the Bolton brothers, Sutcliffe, Smith and others, in the presence of their relatives, brought home the very personal and human dimension of warfare and it nicely led on to our second presentation by Jon Cooksey & Graham McKechnie. They expertly ran us through the enthralling story of To Gallipoli's Shores: Blair Swannell - The Extraordinary Life and Death of a Rugby Legend. Here was the history of an adventurer, soldier, teacher, Justice of the Peace and rugby international who terrorised his opponents on the pitch, and battlefield, but was warmly regarded by those he commanded and served.  This was a most moving presentation which added depth to the very colourful history of a man who, dare I say, many have not heard about but really adds something to our understanding of the campaign and the extraordinary people who served there. In the audience was Blair Swannell's great-nephew who brought along Swannell's Lion Cap which had just been issued.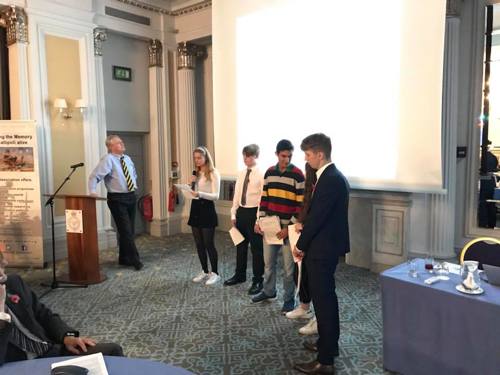 Following a most delicious and generous lunch we were treated to a bonus presentation by five Army Cadets who had taken part in a Gallipoli Association bursary tour to the peninsula with Colonel John White, Commandant Surrey ACF, and Stephen Chambers. Representing Surrey and Hampshire ACFs Isabell, James, Jamie, Holy & Lewis, aged 16 – 18, told us about how moved they were by their visit to the battlefield and what it meant to be given such an opportunity.  From learning about new cultures, being enthused by the history and enlightened by what others, of a similar age to themselves, had to endure, they showed the impact the Association can have in meeting its Remember, Honour and Study mandate. 
Our third presentation by Graham Mottram on Above Gallipoli – In the slipstream of Daedalus looked at the air campaign.   It is easy to forget that the Wright Brothers has only completed the first human power flight some 12 years earlier and now airplanes were starting to play a major role in combat.  Graham showed the challenges, opportunities and 'firsts' through the very personal stories of some truly remarkable men -  Samson, Marix & Sykes to name but a few.  Their tenacity and ingenuity say the Gallipoli campaign being the first time night air raids were conducted and the first use of aviation in anti-shipping operations.  The versatility of airpower was discovered, and it was reassuring that many senior commander immediately saw its utility and embraced it.  But the 'War caught us a couple of years too soon' and technology and logistical stretch prevented it playing a decisive role.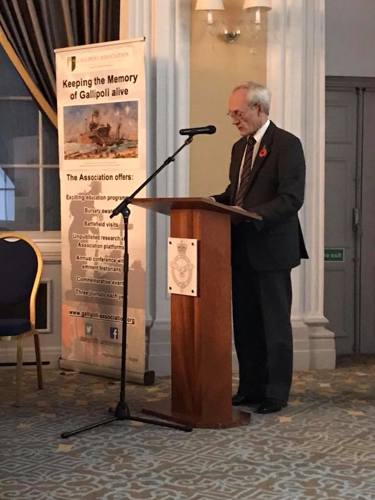 There is a very important story to be told about the air war in Gallipoli and we very much hope that Graham will take his remarkable and detailed research and turn it into a long overdue book on the subject. 
And as we look at long overdue studies we were delighted to welcome our final speaker of the day. Colonel Klaus Wolf of the German Army joined us from Istanbul where he is on the NATO Staff.  Klaus presented on Gallipoli Through German Eyes the subject of his book which will be released next year having been translated into English (by Tom Iredale, our host) thanks to funding from the Association.  This presentation was a wonderful insight into the German role in the campaign.  With colour descriptions of the German Ambassador, Frieherr von Wagenheim - a youthfulness of a student and efficiency of a Prussian and a man who liked Beer, Sausages and, it would appear, the Ladies …. Have things really changed! 
Klaus took us through the German contribution looking at Liman von Sanders Prussianisation of the Ottoman Army to the influence they exerted both in the Ottoman Navy and Armaments industry. It was a masterly run through of how the Germans really did exploit Von Clausewitz dictum of the military / war as an instrument of political power.   This nurturing and growth of the Ottoman military by a small contingent of Germans is a remarkable tale and we are eager for Klaus's book to be released in the UK.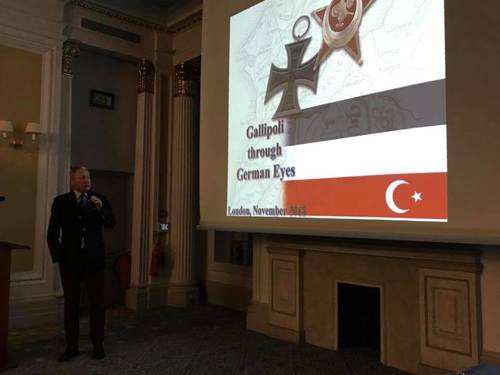 It was a super day – one of intrigue and boy's own stories all of which inspired and captivated the imagination of those present. It was exemplar of a military conference  and in conclusion I would like to thank the RAF Club for allowing us to use their wonderful facilities. Tom Iredale for his faultless arrangements, Stephen Chambers for bringing together such exception speakers and all the speakers for sharing their time and knowledge with us. 
We look forward to next year ….
Brig. James Stopford, Chairman