Remembering the Royal Scots - Battle of Gully Ravine
Scottish school children visit Gallipoli as part of Centenary Education Project
As part of a First World War Centenary project with a difference, pupils from two Edinburgh secondary schools have recently returned from Turkey after a battlefield trip to the Gallipoli peninsula. The Gallipoli Centenary Education Project, jointly funded by the Heritage Lottery Fund and the Gallipoli Association, has been setting up activities across the UK as part of the 2015 commemorations of the disastrous campaign in which thousands of British soldiers lost their lives. 
This was the second visit to the Gallipoli peninsula that the project has been able to organise and Robin Clutterbuck, National Coordinator of the project was delighted to be able to take Scottish pupils. 'Thousands of Scottish soldiers went to Gallipoli and many never came back,' he says. 
Below: Remembering the 1/4th and 1/7th Royal Scots at the Battle of Gully Ravine (photo credit: Lyn Edmonds)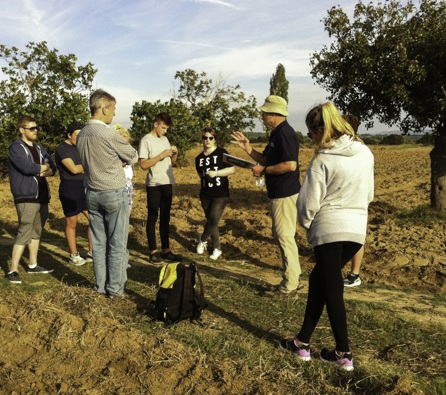 The pupils, aged 15-16 years, were from Portobello High School and Leith Academy. The Leith Academy pupils were selected as representatives of the group who were involved in the research into the backgrounds of the 216 Royal Scots casualties who were killed in the Quintinshill Rail Disaster. 
The pupils have been preparing for their visit by working with School Librarians, Lauren Thow and Christine Boal.  They made the 2,000 mile journey, following in the footsteps of 250,000 British soldiers and sailors in 1915 and in particular those men from the 1/4th, 5th and 1/7th Battalions Royal Scots.  While on the visit they explored the battlefields on the rugged Aegean coast of Turkey and found the graves and memorials of some of the men from their area, including those whose names are listed on each school's Roll of Honour.  
They also had the opportunity to meet Turkish pupils from the Çanakkale İbrahim Bodur Anatolian High School to exchange views on the campaign.  As one student put it, 'it was really nice to see the cultural difference and meet people who are our age.  They were like us but they just lived a different life.' 
Following the trip both schools will use the research and the trip to develop small exhibitions which they will offer to schools, public libraries and other locations in Scotland. 
More details about the trip can be found on the Gallipoli Centenary Education Website
---
Lyn Edmonds
Gallipoli Association
October 2015