Members can apply for tickets to take part in the Cenotaph Parade in London on Remembrance Sunday, 14 November 2021.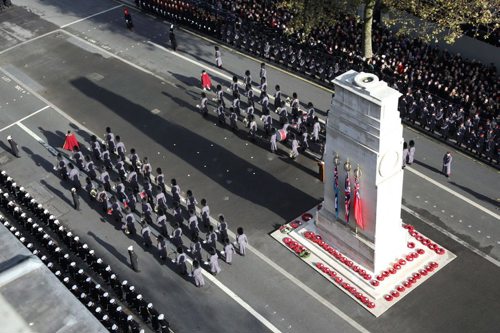 Image: UK Ministry of Defence, Open Government License
The Gallipoli Association has once again been offered the chance of representation at the March Past at the Cenotaph. This is an honour for the Association and is open to members.
The British Legion need to know names and numbers so please complete the form below no later than Friday 13 August 2021.
Places are strictly limited and will be allocated on a first come, first served basis.
Applicants will be advised by the Association if their name has gone forward to the Royal British Legion, so please provide an email address or telephone number. Tickets will be despatched by the RBI in Mid October.
Please indicate if you wish to stay on for lunch after the parade.
---
Gift Aid
As The Gallipoli Association became a registered charity on 3 February 2014, we have applied successfully to Her Majesty's Revenue and Customs (HMRC) to be registered for Gift Aid. This means that for every £1.00 you pay to The Gallipoli Association, we can reclaim 25 pence back from HMRC. This costs nothing for our members but provides additional income for The Gallipoli Association.
The Gallipoli Association is eligible to reclaim these amounts from HMRC if:
1. An Association member pays UK tax equal to or greater than the amount The Gallipoli Association can claim. For example, for an annual subscription of £25.00, the Gallipoli Association can reclaim £6.25 from HMRC provided the member pays at least £6.25 income or capital gains tax to HMRC. If you donate or subscribe to other charities, please bear in mind that they also may be registered for Gift Aid and therefore, your tax paid to HMRC must be greater than the Gift Aid amounts that those charities can reclaim in total from HMRC.
2. The Gallipoli Association holds an authorised declaration from that member.
If you are a UK tax payer and Note 1 above applies to you, we would appreciate your completion of a Gift Aid Declaration form. Once completed, please send to:
Membership Secretary, Mr Peter Luff,
The Gallipoli Association
19 Old Exeter Road
Tavistock
Devon
PL19 0JE
UK
A Declaration Form may be downloaded from HERE, or please contact the above.
---
Change of Address
IMPORTANT NOTE:  Please note that our Contract Address is no longer the PO / MAILBOX. For all postal enquiries, please write to:
Mrs Sarah Kellam,
Hon. Secretary, The Gallipoli Association,
5 Mews House, Roffey Park,
Forest Road,
Colgate,
West Sussex  RH12 4TD
---
 The Gallipolian Archive
A complete archive of Gallipolian journals, from edition 1 through to 134 (1969-2014), is currently in progress of creation, and will be available to members soon. The collection will feature a fully hyperlinked index, allowing the relevant PDF file to be opened directly from the index entry. Files can also be downloaded for viewing locally on this website.
---