SUVLA - Captain John Gillam, Army Service Corps, 29th Divisional Supply Train - We read earlier that there was talk of moving the Field Ambulances; now it appeared to be the turn of the Army Service Corps depot to receiving moving orders. Gillam recalls this in his diary entry of the day: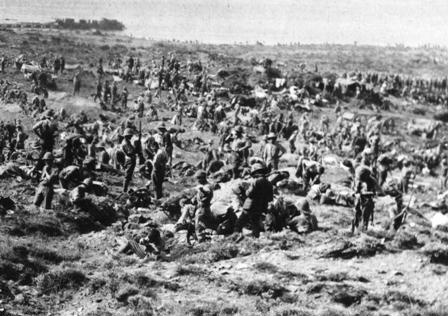 "Camp Commandant cones to inform us that we have to clear out of our place, which is comparatively safe, and move to an exposed position further inland, in full view of the Turks. We shall be absolutely shelled out if we have a supply deport there, with AT carts and motor-lorries coning to and fro from Main Supply deport all day, and it will cripple our work. Hope to get this order cancelled.
Have told DHQ who have promised to see Camp Commandant. Usual artillery firing all day, and ship's guns joining in. Submarines have been busy. One French transport sunk and two British – one empty and one containing Ghurkas and Punjabis. HMS Swiftsure had a narrow escape the other day, two torpedoes just missed her."
Luckily the following day the order was changed and the depot moved somewhere safer.
Gillam finishes his diary with:
" … so ends September, a deadly month. No movement on our part all the month: no action, except little minor stunts such as straightening our line, digging saps, bombing expeditions, and artillery duels. Al lthe time we steadily lose killed and wounded and a seriously large percentage of sick, and we drift and drift on … To where?"
SOURCE:
J. Gillam, Gallipoli Diary, (Stevenage, The Strong Oak Press, 1989), p.236.