ANZAC - Second Lieutenant Frederick Forrest, 9th Battery, 3rd Artillery Brigade, 1st Division, AIF - A diary note from Second Lieutenant Frederick Forrest who transmits the gossip that was flying around Anzac that day.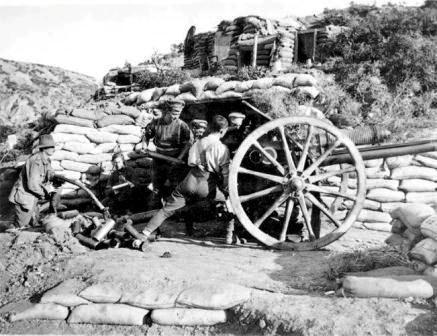 Photograph: AWM P00046.041: Members of the 9th Battery, 3rd Field Artillery Brigade, First Division, AIF, loading and firing their 18-pounder gun from Artillery Road positions. The road that was constructed during the campaign and still runs from Lone Pine via Shell Green to the beach south of Hell Spit.
"Excitement at Lone Pine. Our Miners broke into the enemy's sap. Entrance blocked with sand bags and sentry placed on same. Sentry left post and Turks broke through. Officer- in - Charge of post went to see what was the matter and was shot. Sapper Kiddle constructed a portable mine - an ammunition box on wheels made of jam tins in which was placed a charge of ammunition cotton. Then with lengths of water pipe screwed together with electric lead connected to charge - was pushed down the sap and ignited by electric battery. Result: sap, together with Turks, blown up and we regained possession of sap."
SOURCE:
Diary from Army Museum of South Australia Internet source http://www.amosa.org.au/schools/mhp/diaries/War%20diary%20-Frederick%20Forrest.pdf