SUVLA - Lieutenant Owen Steele, Newfoundland Regiment, 88th Brigade, 29th Division - On 9 November the Newfoundland Regiment were relieved from their positions in the front line trenches.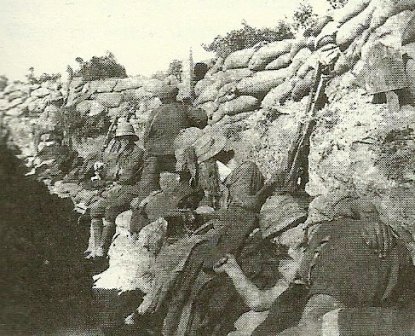 "At 3am we went out and examined the barbed wire and found everything ok and no shots were fired at us - we were all armed with rifles and 50 rounds of ammunition each. This morning we received word that we were to be relieved by the London's at 7pm tonight, and that we were to occupy their present position in the second line of resistance, which was the place we were in the second last time we were out of the firing line. At 10.30am I was sent out by Captain March to look over the trenches we were to take over tonight and returned about 1pm. The weather was gloriously fine until 3pm when it became a little cloudy and cooler. At 5pm when orders came out we were all delighted to read the very complimentary remarks from the G.O.C. concerning the Battalion's work in connection with the occupation of Caribou Hill. We were to have been relieved by "The London's" at 7pm, but they were late in arriving, and it was 8.30pm when we were able to leave the firing line. We walked very slowly out and towards the end of C'-D'[Companies] communication trench met a Company of the London's going in to relieve our B Coy. This meeting and passing of another Company in the communication trench caused a great delay and lots of confusion for there was not sufficient room for the troops to pass with their packs. Some of the other Company sat down on seats or firing steps that were there, others stooped down so that our men could get past with their packs, others sat down and our men stepped over them; however, our men eventually succeeded in getting past, but all the while, at the particularly hard places, there were plenty of curses, swearing, yells of pain from the men who were being walked on, sarcastic remarks, etc., etc. Others of the London's, who were comfortably seated, spent their time in laughing at and making all kinds of remarks to those of their comrades who were not in so fortunate positions or circumstances. However, we eventually reached our destination, the second line of resistance, about 11pm. After we had all the men fixed off in their places, we prepared to turn in ourselves, but before doing so had a little supper of bread and Golden Syrup, for we were hungry after our rather strenuous evening and tiresome walk. Weather: Quite a glorious day, and night fine but cool. Towards morning we had a shower or two of rain."
SOURCE:
O. W. Steele (edited by D. R. Facey-Crowther)), Lieutenant Owen WIlliam Steele of the Newfoundland Regiment: Diary and Letters Montreal, McGill-Queen's University Press, 2002), pp.89-90.