SUVLA - Major General William Peyton, General Officer Commanding, 2nd Mounted Division (Yeomanry), IX Corps - With two months ashore at Suvla, in some very testing situations, the Yeomanry had performed well considering. Although no victory over the Turk could be claimed, Scimitar Hill was still a proud battle honour for the Division to hold. It was now time for the Yeomanry to rest. On 1st November General Peyton sent the following farewell message to his division.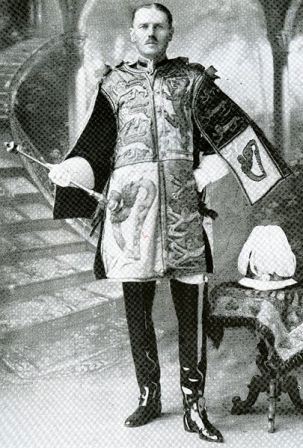 Photograph: Peyton dressed as the Delhi Herald of Arms Extraordinary at the time of the Delhi Durbar of 1911.
"The G.O.C. 2nd Mounted Division wishes to convey to all ranks his great appreciation of the soldier-like qualities and fortitude which have been so markedly evinced during the last two months. In the face of heavy losses sustained in the action of August 21st, followed by exposure for ten days in a cramped and crowded situation to incessant shell fire which caused many casualties, the Division has been  called upon, whilst continually under fire, and suffering from the ravages of sickness, to carry out abnormal manual physical evolutions to maintain and improve our defences. The time is now arrived that the troops should be withdrawn and rested; and the G.O.C. feels sure that, when reinforcements arrive, and the Brigades reorganise, they will return with the same indomitable determination to face all hardships and difficulties which the service of the King and country may require".
The following day the Mounted Division, or what was left of it, departed Suvla and sailed at midnight for Lemnos. The division served at Suvla from 18 August 1915 until the evacuation on 19/20 December 1915, when it returned to Egypt. Once back in Egypt the division was broken up and by 21 January 1916 it ceased to exist.
SOURCE:
H. Day, "A Cavalry Chaplain" (Heath Cranton, London, 1922) pp.173-174.