HELLES - That Christmas of 1915 at Helles was a strange affair. Far from home and in the glowering presence of their enemies the festive season could be a little depressing. Gunner John Gunn certainly had reason to be depressed. His young boy had died just nine months before and for him, alone in a hole in the ground far, far from home it was almost unbearable to be apart from his wife Isabella.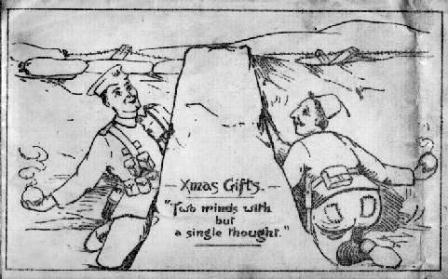 "I was thinking of home today; of the sadness of my wife. I made a mistake: I was out at the observation post and I broke down thinking of my little boy and of his Mamma: thinking of the year before having the joy of filling his stockings and presents from Santa Claus, but she would not have the great joy of doing so tonight. May God be with her and console her with great and happy thoughts that he is in supreme happiness in Heaven amongst the Angels. Saturday: another day of sad thoughts although it is Christmas Day. It is nine months to the day since our darling went to heaven, may god be with his Mamma and send his spirit to strengthen her. I wrote a note to my wife." (Gunner John Gunn, 14 Siege Battery, Royal Garrison Artillery)

Lieutenant Norman King-Wilson was in a strange mood that day.

"Christmas Day in the trenches! A fitting title for an ode by Dante! Morning found us wet and cold, without a fire to warm us, without change of clothing or hot food or drink: a Christmas without home, friends or cheer. Somehow the thought was so melancholy, while the fact in itself was so small. Why should the 25th of December be any harder than any other day spent under the same circumstances? The Padre and the men looked so disheartened and sad that I could not resist the temptation to laugh - there was a sardonic humour in it all." (Lieutenant Norman King-Wilson, 88th Field Ambulance, RAMC)

As on the Western Front, there was no attempt, no thought of a Christmas Armistice in 1915. The war had become a serious business with no room for such sentimentalities. 

OTHER SOURCES: 

IWM DOCS: N. King-Wilson, Typescript account, 'Jottings of a MO', p.43.
SOURCE:
WM DOCS: J. Gunn, Typescript diary, 24/12/1915-25/12/1915