HELLES - It is tempting to see the fate of Lieutenant Charles Lister as somehow symbolic of the campaign history: there he was present at the genesis of the war with the British Embassy in Constantinople, then he was one of the 'happy band' sailing out to adventure with the RND in March 1915, wounded three times during the fruitless trench warfare at Helles and now fighting his own final battle aboard the hospital ship Gascon as all hope faded. Lister was as 'chipper' as ever when he wrote home to his father, Lord Ribblesdale, to tell him of his latest wounds.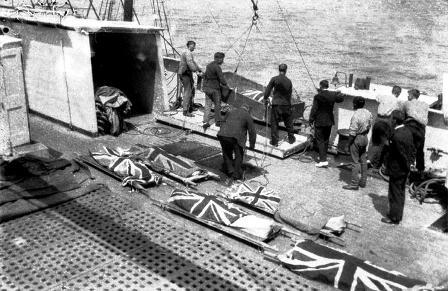 Photograph: AWM A01859 Union Jack-draped bodies being transferred from the hospital ship Gascon to a North Sea trawler for burial at sea. Charles Lister was slightly unusual in that his body was taken ashore for burial ashore at Lemnos.
"Just think, I have been wounded once more, the third time. We were in a trench, observing the Turkish trenches, when suddenly they fired some shells into our trenches. I went along to see what had happened, got my people back into a bit of a trench they had had to leave, then went down the trench, thinking the show was over, and then got it, being struck in the pelvis and my bladder being deranged, and slight injuries in the legs and calves. I have been operated on, but am sketchy as to what has been done. I am on a hospital ship, comfy enough, but feeling the motion of it a good deal, and I have to be in bed and cannot change my position. The hours go slowly, as one does not feel very much up to reading. However, I got to sleep all right I feel this will be a longish job, and I don't know where I shall do my cure - perhaps Alexandria. My doctor is quite happy at the way things are going. The shell that hit me killed one man and wounded the others. Forgive this scrawl, but it's not easy to write." (Lieutenant Charles Lister, Hood Battalion, 2nd Naval Brigade, RND)
 Sadly, the next letter to his father was from Chaplain Mayne of the Gascon written on 29 August.
"He had very skilled attention and very careful nursing while on board, and was, I know, a wonderful patient. He never complained or even spoke of his wound, and if he had pain he bore it very bravely and patiently. But I believe that he did not have too much pain. We talked together sometimes, but he was easily tired, and one could not stay with him long. My great regret is that I did not know yesterday that he was so much worse until rather late, and when I went to see him he was unconscious. It is seldom comparatively that one sees a man in such command of himself, and so controlled. The books at his bedside spoke for his literary taste and the day before he died I lent him a copy of the poems of Rupert Brooke whom we both knew. As I write we are waiting for the boat to take his body ashore at Mudros, where the burial will take place tomorrow. He will lie almost within sound of the heavy guns." (Chaplain Mayne, Gascon)
 The Chaplain responsible for that burial was none other than Ernest Raymond, the man who would subsequently become the high priest of Gallipolean romanticism with the publication of his much acclaimed novel 'Tell England' in 1922. Here he had to perform the last rites as he supervised the burial of one of the beaux sabreurs he so much revered.
"As burial officer I went down to the little wooden jetty to receive them. They were lifted from a steam pinnace on to the jetty, each wrapped up in a grey army-blanket which, holding tight to his figure, gave him the shape of an embalmed Egyptian. Each had pinned on to his breast some available scrap of paper, giving his name, regiment and religion, and no more. The Corporal in charge of my burial party said, "One of 'em's an officer, Sir!' and pointed to the longest figure of all; officers having to be buried in a different part of a cemetery from Other Ranks; so retaining their class distinction beyond the grave. With my record book in my hand I went to the officer's body to enter his name. The paper pinned on to his breast chanced to be an envelope snatched in an orderly room or other office; and I read, 'On His Majesty's Service. Lieut, the Hon. Charles Lister.' For Charles Lister and his companions in death a G.S. wagon drawn by two mules waited by the jetty. I sat with them in the wagon, and so did the corporal and his burial party, as we jolted to the cemetery. We and the dead were the whole company. Our little army cemetery on Mudros East lay far behind the hills that rolled up from the great Lemnos harbour and held the white tented hospitals in line abreast. It was a bare and lonely little acre on a stony plain within a fence of barbed wire. Of course there was no firing party or Last Post; only a silence among the empty hills." (Chaplain Ernest Raymond)
And there Charles Lister remains to this very day, buried in East Mudros Military Cemetery.
SOURCES:
 Lord Ribblesdale, "Charles Lister: Letters and Recollections" (London: T. Fisher Unwin Ltd, 1917), pp.16-17 & 226-227
SOURCE:
E. Raymond, "The Story of My Days" (London: Cassell, 1968), pp.131-132