ANZAC - Corporal Rex Boyden, 18th (New South Wales) Battalion, 5th Brigade, 2nd Australian Division, AIF - The remnants of numerous battalions had been scraped up from the battered brigades of the ANZAC Corps (assisted by elements of various British, Indian and New Zealand units) to try and take Hill 60 which 'overlooked' the junction between Anzac and Suvla. But at the end of the fighting on 21 August they had only gained small footing on their objective while the Turks had merely fallen back to another line of trenches.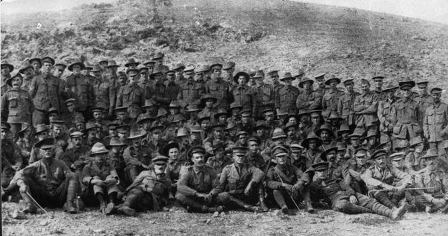 Photograph is from the State library of Victoria Collection Photo H83.103/327. This was taken by T.P. Bennett of group of men from the 18th or 22nd Battalion inspecting their shirts for lice.
They still controlled the 'heights' of Hill 60. That night the calls for reinforcements grew so insistent that the 18th Battalion of the newly landed 5th Australian Brigade was thrown into action early on the morning of 22 August. These men were fresh, but correspondingly untested. Most of them had no idea until the last minutes that they were going into an attack but thought they were merely taking over a section of the line. Corporal Rex Boyden off the 18th Battalion found it difficult to forget his traumatic experiences as they attacked Hill 60.
"We were moving along through a Gurkhas' trench and were ordered to fix bayonets, so we knew that there was to be a charge. Having been marching from 12 o'clock we were extremely tired and thirsty, for we had had nothing to eat or drink from the evening before, so we did not feel much like charging. Well, about 6 o'clock the charge was ordered, and we all rushed forward. We captured two trenches and were charging forward to capture the third when I was hit."
Boyden lay out in the open for a day and a half, rendered immobile and helpless by a severe stomach wound, but miraculously suffering no more wounds as bullets splattered all around him. Bullets even ripped through his clothes, but he only suffered a few slight grazes.
"It was simply wonderful how God watched over me. I could realise His presence so strong with me that all fear was taken away, although shells and shrapnel were bursting within a few yards of me and bullets flying everywhere. I couldn't possibly move at the time, and it was fortunate I didn't, for I was behind a dead man and he was sheltering me from the deadly fire of the Turks. I could hear the bullets pelting him while I was lying there. All day long I was looking forward to the night when I thought it would be dark enough to allow the stretcher-bearers to come for me. But it was not to be, for it was bright moonlight, and none came to fetch me, so I lay there until the moon went down, about an hour before daybreak next morning. I managed to crawl about 25 yards, which took me nearly an hour, and brought me near to a part of our trench. I couldn't go any further but shouted out for a stretcher-bearer, and one of the New Zealanders pulled me over the parapet into the trench."
SOURCE:
R. H. Boyden, Family Quotas (Reveille, 1/9/1938), pp.32-33