IMBROS - Leading Mechanic Arthur Beeton No 3 Wing, Royal Naval Air Service - For the pilots flying in their flimsy machines with no parachute a flying accident was often fatal. Captain Charles Collet was killed on 19th August. Collet was a well known pilot who had carried out the first long distance air raid into German territory of the war, when he bombed the Zeppelin sheds at Dusseldorf on 22 September 1914.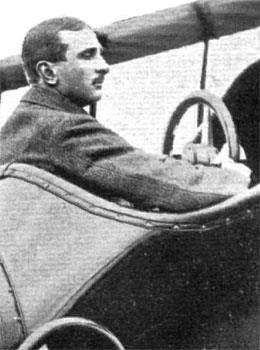 Collet had led the raid with four aircraft but because of thick mist in the Rhine valley he was the only pilot to locate his target, dropping two 20lb bombs from 400 feet on the Dusseldorf sheds. He was on target but the bombs failed to explode! He was awarded the DSO.
Leading Mechanic Arthur Beeton was watching when Collet had his fatal accident.
"He picked up George Lacey and took off over the cliffs. There was always an undercurrent on the cliffs you had to watch. He hit this undercurrent and instead of going forward he turned and came back, lost flying speed and crashed. George saw it coming and he was in the seat under the engine. On these BE2c if they hit the ground the engine dropped on top of you. When he saw they were crashing he got half way out and it threw him, ooh 50 yards away - compound fractures of both legs but he got no burns. There was Collet trapped in this damned machine. In between where he came down and where we were there was a ravine about 70 feet deep. We had to go down it and up the side a difficult thing to do. When we got to the other side we saw it was on fire and there was Collet trapped in this damned machine. We tried to get him out but we couldn't; we got our hands and faces scarred. This chap Mick Keogh saw what had happened and he had picked up a big black tarpaulin and he wrapped that round himself and went in and pulled him out. He got the Albert Medal for that. But Collett was so badly burned when you'd catch hold of him, you got handfuls of flesh. He was still alive, he said to the doctor, "Put me out, put me out!" We buried him and put his propeller up on the hill there."
Collet was buried at Kaphalos British Cemetery, on Imbros but the graves were moved to the Lancashire Landing Cemetery at Helles where the unfortunate Collet now lies in K49.
Chief Petty Officer Michael KEOGH of the HMS Ark Royal, seaplane carrier was awarded the Albert medal (later changed to the George Cross) as detailed in The London Gazette for 14 January, 1916
The King has been pleased to approve of the Albert Medal of the Second Class being conferred upon Michael Sullivan Keogh, Chief Petty Officer, H.M.S. Ark Royal, in recognition of his gallantry in endeavouring to save life as detailed below:
"On the 19th August, 1915, an aeroplane piloted by the late Captain C. H. Collet, D.S.O., R.M.A., was ascending from Imbros Aerodrome, and had reached a height of 15ft feet when the engine stopped. The machine was upset by the powerful air currents from the cliffs, and fell vertically to the ground, while the petrol carried burst into flames which immediately enveloped the aeroplane and pilot. Chief Petty Officer Keogh, upon arriving at the scene of the accident at once made an attempt to save Captain Collet by dashing into the midst of the wreckage, which was a mass of flames. He had succeeded in dragging the fatally injured officer nearly clear of the flames; when he was himself overcome by the burns which he had received from the blazing petrol."
SOURCE:
IWM Sound Archive A. Beeton AC 8323. , London Gazette,14/1/1916.