SUVLA - Lieutenant Colonel Sir Horace Proctor-Beauchamp, 1/5th Norfolks, 163 Brigade, 54th Division, IX Corps - Even though there is no direct quote from Proctor-Beauchamp and not wanting to add much more exposure to the 1/5th Norfolks, this day's events still deserves a rightful mention in this journal of the day by day Gallipoli story.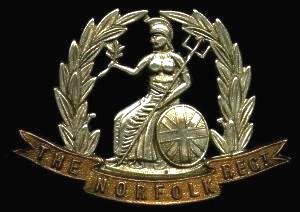 In order to connect and advance the line between Kiretch Tepe and Chocolate Hill, 163 Brigade were chosen at short notice to make the move forward. Leading this brigade advance was Lieutenant Colonel Sir Horace Proctor-Beauchamp, the CO of 1/5th Norfolks, with the 1/8th Hants (Isle of Wight Rifles), 1/5th Suffolks and the 1/4th Norfolks in support.
The advance started reasonably well, however, after several hundred yards the line began to falter, enfilade machine gun and rifle fire coming from Kidney Hill, a spur off of Kiretch Tepe, as well as shrapnel fire from the direction of the Anafarta Spur over on right flank. Things then began to go wrong. The 1/5th Norfolks veered too far over to the right and outpaced the other battalions to their left, leaving the battalion isolated. As Turkish fire intensified the brigade came to a standstill, with the exception of the 1/5th Norfolks, who with lesser opposition continued on, knowingly or unknowingly, without their flank support.
Leading the 1/5 Norfolks was Proctor-Beauchamp and Captain Randall Cubitt, both men smoking whilst the Colonel spurred on his men, waving his cane and shouting:
"on the Norfolks on, come on my holy boys, forward the hungry Ninth" - ( The 9th Regiment of Foot became the Norfolk Regiment in 1881 following the Childer reoganisation of the British Army.)
As their solo advance continued resistance grew and casualties quickly mounted. Undeterred the order was then given to fix bayonets and to advance at the double. This brought upon them an almost immediate fusillade of bullets, as the glistening bayonets helped exposed their position. An eye witness wrote:
"It was perfect hell. The hills were alive with rifles and machine guns. Still on they went, rushing forward. Men shouted 'Good old Yarmouth', 'Good old Sandringham', 'Good old Downham' and 'Good old Lynn'."
The battalion continued in short rushes, as brave and keen groups of men rushed forward. Enemy rifle and machine gun fire appeared to be coming from all sides, including behind, where well concealed snipers shot at the officers and NCOs. Private John Dye, who was later wounded in the attack, remembered seeing Captain Frank Beck, from the Sandringham estate, leading C (The King's) Company
forward:
"… walking with his stick just the same as he did at Sandringham, putting it down at the same time as he did his left foot. He might have been seen with his hat off or with his revolver in his hand when we were in the thick of it, but I did not see him that way."
The heat and casualties continued to take their toll. The ground also made it difficult to maintain cohesion, as the crisscross of dry water courses, hedge rows, scrub and dust all contributed to slowing it down. Some of the trees, scrub and fields had also caught fire, the rising smoke clouding visibility.
An unknown eyewitness wrote:
"We tore ahead as hard as we could; it was blazing hot. The advance was rapid and there was an awful shortage of water. Men fell out exhausted by thirst. Many were wounded by the enfilading fire, but we got the Turks on the run. I saw Col. Beauchamp walking with the adjutant. He had a light cane in his right hand and a coat over his left arm."
Proctor-Beauchamp and his dwindled group of men could advance no further, seeking cover where ever they could, behind bushes, in ditches and hollows in the ground. Wounded tried to crawl back to their own lines whilst others continued forward to a cluster of stone farm buildings that offered some protection from the deadly fire. Hoping for support to reach them, none came.
Second Lieutenant Roland Pelly, A Company, 1/5th Norfolks, in a letter to his father, wrote:
"For some reason or mistake no regiment, of which there were loads, backed us up to shove us through. We were opposed by a wall of bullets and were knocked over right and left. I got too far ahead, lost my way and trying to find it again, was bagged by a Turkish sniper – which swarm – at very close range. The bullet broke my left lower jaw, tore my tongue in shreds and then out through my right cheek. Then after an awful wandering the RAMC got me; by 11pm they had carried me right back to expert care... One or two wounded followed – Purdy, Oliphant, Seymour and told me we had been most frightfully cut up and almost wiped out... That was an awful night – absolute HELL – and surely if there had been someone behind we should have gone right through."
Pelly was correct; there was a mistake made. Proctor-Beauchamp allowed the 1/5th Norfolks to break away in direction from the rest of his brigade, and without allowing time to realign, he continued the advance unsupported. In and around these buildings, including a nearby vineyard, was probably the furthest advance that day, reaching about half a mile behind the Turkish front line. Here they made a last stand, most fighting to the death
Because of the Royal connection, this being Captain Frank Beck, the Sandringham's Land Agent and many of his men who were employed before the war as grooms, gardeners, farm labourers and household staff of the Estate, the story hit the headlines of the day. Titles like "Missing Norfolks", "Vanished Battalion" etc fed the public interest of the time, and even today. Sensationalised, a myth grew up and has featured in many newspapers, books, documentaries and in the sadly flawed and dreadful television film' All The King's Men'.
But there was no mysterious disappearance of the Norfolks. Of the battalion, as early as 1916, it was reported that only 137 men were still missing – a big difference to that of a whole battalion! The officer casualties were notable, as also were strong family ties between them. As with many locally raised battalions, there was a 'Pals' bond amongst the rank and file, and just looking at the officers we can see this was strong within the 1/5th Norfolks as it was in some other battalions.
Many wounded, disorientated and exhausted men returned back to the British lines over the next few days. Surviving the war as Prisoners were at least two officers and thirty one other ranks from the brigades attack, also adding to the surviving numbers. The final casualty figure for the 1/5th Norfolks was adjusted to fifteen officers and 141 men killed on 12th August, of which only Captain Beck and sixteen men were recruited from the Sandringham estate. This is the fact, not the myth.
With the exception of 163 Brigade's attack and a trench captured on Kiretch Tepe, 12 August was a reasonably quiet day for IX Corps, as were the following couple of days, which allowed both sides a respite.
SOURCE:
Chambers, S., Suvla: August Offensive (Barnsley: Pen & Swords 2011)