ANZAC - Sergeant Major Paul Goldenstedt, 3rd (New South Wales) Battalion, 1st Brigade, 1st Division, AIF - On the 9 August the desperate fighting at Lone Pine finally came to an end. Both sides were utterly exhausted. On that last day Sergeant Major Paul Goldenstedt and his men thought that they were doomed.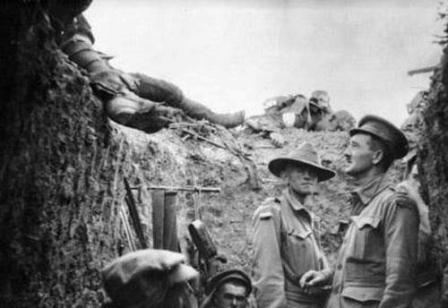 Photograph: AWM A02025 photo caption:
A trench at Lone Pine after the battle, showing Australian and Turkish dead on the parapet. In the foreground of this much published image is Captain Leslie Morshead (later Lieutenant General Sir Leslie Morshead) of the 2nd Battalion and on his right (standing facing camera), is 527 Private James (Jim) Brown Bryant, 8th Battalion, of Stawell, Vic. As a 60th Battalion ("daughter" or "pup" battalion of the 8th) Company Quartermaster Sergeant (CQMS) Bryant was awarded the Military Medal (MM) in 1918. Bryant lent his camera to an unknown friend who took AWM image A03869, an equally famous image of the Gallipoli trenches. Later in life he was one of the few Gallipoli veterans to undertake a private pilgrimage to Anzac Cove. Private Bryant was previously identified as Private Angus Sutherland Allen, later (Captain Angus Sutherland Allen MC), who was killed in action on 21 July 1918 in France. Note the prominent white over red 8th Battalion colour patch worn on Bryant's right shoulder.
"The rifle, bomb and machine gun fire just after daybreak was something never to be forgotten. Our men were swept off the parapets like flies. General Smyth, VC, who commanded the 1st Brigade, issued an order for every man to step down off the parapet and prepare to meet the Turk on the floor of the trench. I was then near Lieutenant Percy Woods - Percy and I had been sergeants together. He took out a pencil and wrote a few words to his wife on a field service post card. Having no wife and few relations that I could think of for the moment, I scribbled a few lines to her as well, and Percy fixed a bayonet to his rifle. I preferred my revolver. The feeling at that moment must be something like what a condemned man feels when the hangman is tying the rope. Anyhow, of a sudden there was a wild cheer and before we knew where we were the Turks had beat it for their trenches."
Never had an anti-climax been more welcome. An hour or so later they were relieved and their ordeal was over. It was estimated that in the fighting the Australians lost approaching 2,000 men while the Turks relentless counter-attacks took their losses as high as 5,000. The Australians had triumphed, but the gain of the trench and a 100 or so yards of blood drenched ground, however much it was regretted and disputed by the Turks, meant little or nothing. Tactically the situation of 400 Plateau remained much the same.
---
SUVLA - General Sir Ian Hamilton, MEF - Hamilton's intervening was too late for Suvla. The advance to capture Tekke Tepe came a day too late, and those few British troops that tried to gain the top were met and cut down by the Turkish reserves. Tekke Tepe had lain virtually undefended for two days and now the prize was lost. The Turks had won the race.
Tekke Tepe
Photograph: Tekke Tepe on the horizon looms over Scimitar Hill, the killing fields of Suvla.
Even on Scimitar Hill, which had been in British hands only hours before, but abandoned without a fight in the confusion of the night, was back in Turkish hands. Fighting continued throughout the 9 August to no avail. Even with the landing that morning of the 53rd (Welsh) Division, was not going to help. Scimitar Hill was lost and Tekke Tepe was now firmly beyond grasp of Stopford.
Hamilton wrote:
"At dawn on 9th I watched General Hammersley's attack, and very soon realised, by the well-sustained artillery fire of the enemy (so silent the previous day) and by the volume of the musketry, that Turkish reinforcements had arrived; that with the renewed confidence caused by our long delay the guns had been brought back; and that, after all, we were forestalled. This was a bad moment. Our attack failed; our losses were very serious. The enemy's enfilading shrapnel fire seemed to be especially destructive and demoralising, the shells burst low and all along our lines."
By nightfall on 9 August almost nothing had been achieved, leaving most of IX Corps in disarray. Lieutenant Edward Compton Mackenzie wrote in his diary:
"This has been a day of disappointments. The IXth Army Corps failed to push on, and all our advantage seems lost. Sir Ian went off to curse the General commanding. It's really heart rendering. We still hope that they'll get to a certain ridge, but there is no news, and in military operations no news is bad news."
Not only does 9 August mark the end of any real chance of success at Suvla, but it also signalled the end of the offensive at Anzac. Birdwood had gained parts of the Sari Bair ridge, capturing Chunuk Bair and Hill Q, but this would not be for long as Mustafa Kemal was already organising a counter attack for early morning of 10 August. This would be the turning point of the August offensive and the loss of all hope for Birdwood's breakout. The Turks had contained the threat at Anzac and sealed the British into Suvla, it was the beginning of the end.
SOURCE: C. Mackenzie, Gallipoli Memories, (Cassell & Co, London 1929)
I. Hamilton, Gallipoli Diary, (London, Edward Arnold Ltd, 1920)
SOURCE:
P. Goldenstedt, Attack and Defence: 3rd at Lone Pine (Reveille, 1/8/1932), pp. 26-27