ANZAC DAY and London Legacy
Following the Dawn Service it was nice to see the visiting Chairman of Adelaide Legacy, Mark Bourchier and London's Hon. Secretary Simon Kleinig attend the Wreath Laying ceremony at the Gallipoli Memorial in the Crypt at St Paul's Cathedral, an event hosted the Gallipoli Association hosts every year.
Both legatees and their wives then joined members of the Gallipoli Association for lunch at "The Admiral" on Trafalgar Square, hosted by Chairman Brigadier James Stopford and President Captain Christopher Fagan MBE, DL.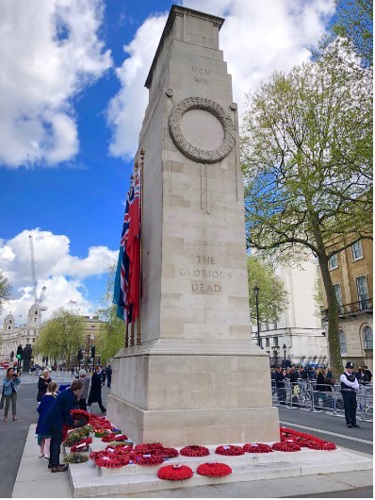 How does London Legacy work?
There is nobody better to explain this than Simon Kleinig himself, who incidentally is also a Gallipoli Association member:
"Legacy in the northern hemisphere operates under the same principles as all Legacy clubs in Australia. We abide by the same guidelines and Legacy Code of Conduct, but we differ in that as a charity we operate under the UK Charities Commission. As in Australia, the sole reason for our existence is to care for our dependants. It will be our driving imperative for as long as we have needy dependants in this part of the world.
When I first joined London Legacy ten years ago it took me a little while to fully appreciate the difference in the way Legacy operates here compared to Australia.
Despite being London based, our area of responsibility is not defined by local parameters — we look after dependants the length and breadth of the United Kingdom — from the Isle of Wight in the south, to Dundee in Scotland in the north. We have dependants in Belgium and France too.
Most of our dependants are WW2 widows in the 85 age bracket and upwards, but we do have younger widows, too — our widows range from 30 to 104 years of age. Many WW2 widows have lived for long periods in Australia and have only returned to Britain upon the death of their husbands. Some, though British born, have actually lived longer in Australia than in the UK. For these ladies Australia continues to exert a strong emotional pull. Here, Legacy provides an important and tangible link between the two countries.
Some widows married Australian servicemen and moved to Australia for short periods only, tragically cut short by the deaths of their husbands. These ladies then returned to their families and friends in Britain, often with infant or young children. Legacy immediately stepped in and supported these widows and their children, in some cases for 50 years or more.
London Legacy meets quarterly in Australia House on the Strand and enjoys the support of the High Commissions of both Australia and New Zealand. The Australian High Commissioner has traditionally been our patron and attends our Legacy functions whenever possible.
In June each year London Legacy holds an Annual Reception in the Downer Room at Australia House. Our widows are invited to attend and always enjoy meeting legatees and hearing Australian accents again. The occasion is also used to thank our legatees, friends and supporters. London Legacy has developed strong reciprocal links with like-minded organisations — The Britain-Australia Society, The Royal Hospital Chelsea, The Gallipoli Association and many London-based Australian businesses.
On commemorative occasions their legatees lay wreaths at the Australian and New Zealand War Memorials at Hyde Park Corner and at The Cenotaph in Whitehall. These events attract large crowds of visiting and expatriate Aussies and Kiwis. Legatees also lay Legacy wreaths in Scotland and at Villers-Bretonneux in France.
Anzac Day in London always draws big crowds even though the event is largely unknown to many Britons. A special Anzac Day service is held in a packed Westminster Abbey, attended by a member of the Royal family. The big commemorative day in Britain is Remembrance Sunday (traditionally the Sunday closest to Remembrance Day) which draws huge crowds. A Legacy wreath is also laid on the traditional Remembrance Day, 11th November. On Remembrance Sunday London Legacy participates in the Parade at The Cenotaph.
Remembrance Sunday is only one of two days (the other being New Year's Day) when the now silent Big Ben (stilled for four years for repairs and maintenance) chimes out its eleven peals on the eleventh hour. The booming peals resonating across the silent streets of London is always a stirring and emotional experience.
London Legacy was initially formed on the initiative of the Moss brothers in 1947. John Moss was a solicitor in WWI and Frank Moss (the younger brother) was a civil servant during WW2. Their father was at one time Agent General for Western Australia, and although both John and Frank Moss were Australian by birth they were brought up in the UK. At the end of WW2 Frank Moss saw the need for help to be extended to the widows of Australian servicemen in the northern hemisphere and London Legacy was founded.
London Legacy is funded solely by donations and fund raising events. This can be a challenge when the Legacy brand name is largely unknown in Britain. Consequently, occasions such as Legacy Week, such an effective fund raiser in Australia, is of no benefit to us here.
We need to fall back on our own resources and arrange fund raising events such as our Legacy Anzac Gala Dinner every two years to provide an injection of funds necessary to sustain us. We also attract some sponsorship from Australian banks and occasionally the enjoy the largesse of individual donors and benefactors.
Fund raising remains an important and necessary adjunct to the operation of London Legacy, but will, and must, always take second place to our primary focus — the care of our dependants. If you are an Australian legatee visiting London please do get in touch with us. The President or a committee member will be happy to share a coffee with you and show you some genuine Legacy bonhomie — London style.
For more information see: http://www.legacy.com.au/london/LondonLegacy
All images copyright of London Legacy.