Anzac Day 2016 service in Peterborough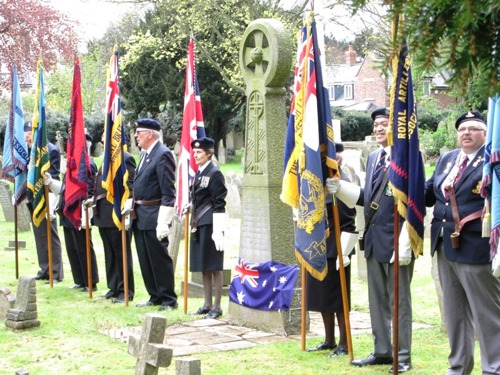 The Anzac Day service in Peterborough took place, as it does every year, at the graveside of 505 Sergeant Thomas Hunter, Service 10th Bn. Australian Infantry who died of wounds on 31 July 1916 in the Peterborough Infirmary (now the Peterborough Museum) after he was taken from a train on his way to a specialist hospital in the north of England.  Thomas Hunter was born on 5 May 1880 in Medomsley, County Durham and after leaving school went to work in the mines like his father.   He emigrated to Australia in 1910 where he again worked as a miner.  He attested into the AIF on 24 August 1914 and took part in the landings at Gallipoli on 25 April.  He was wounded soon after and was hospitalised in Alexandria but returned   to the Peninsula in late May.  Following the evacuation, Hunter served with the 10th Bn. in France where he was badly wounded at Pozieres during the Battle of the Somme in July 1916.
Sergeant Hunter was buried in Broadway Cemetery with full military honours, the citizens of Peterborough paid for his monument and he continues to be commemorated in the city as 'The Lonely ANZAC'.  Despite the rain this year, a large crowd gathered to remember Thomas Hunter and those from Australia and New Zealand who gave their lives, in two World Wars.   Peterborough lost many men in the First World War and they too are also remembered on 25 April around Sgt. Hunter's grave.
 
The service was conducted by The Revd. George Rogers and took place in the presence of The Deputy Lieutenant of Cambridgeshire, Mr Neil McKittrick DL, the Mayor of Peterborough, Councillor John Peach.  Squadron Leader Peter Mole  RAAF was in attendance and placed a wreath of poppies from the Australian people together with several remembrance crosses; representation from the Australian Military is always been a matter of great pride and importance to the people of the city, and this year in particular which marks the centenary of Sgt. Hunter's death.
Wyn Harrison