THE WINTER 2016 ISSUE OF 'THE GALLIPOLIAN'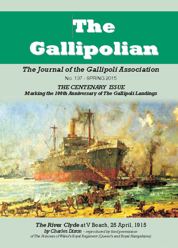 The Winter 2016 issue of The Gallipolian (No. 142) will be published in the latter part of December. It contains reports on the Association's 2016 Bursary Tour to Gallipoli and the students' subsequent research presentations. There are also details of Association's 2016 Annual General Meeting (including the minutes which are enclosed separately) and a transcript of the speech given by the Admiral Sir Philip Jones, The First Sea Lord, to members attending the Autumn Lunch. The edition also features reports on the Association's 'Evacuation' Conference in October; on the Field of Remembrance at Westminster Abbey; and our attendance at the Cenotaph Ceremony in November. Information is also given on the Association's Gallipoli & Hidden Gallipoli Battlefield Tour in 2017. 
There are also articles on the role played by HMS Waterwitch at Gallipoli, and one by Major and Mrs Holt entitled 'Helles to the 'Bridge Too Far'. Other articles featured include 'The Last Allied Officers to Die at Gallipoli', 'The Navy's Oldest Salt', the 'Myth of the Gallipoli Current at Anzac Cove', The Lemnos Memorial at Melbourne and 'Whose Voice?' - an article by David Hiscocks on the Imperial War Museum's Online Sound archive. 
There is also another contribution in the 'Letters from Gallipoli' series; Book Reviews and information on forthcoming Association events.