U3A Gallipoli Project - Xmas 2021
Gallipoli Project Xmas Newsletter
This is the fourth newsletter of this successful project, involving over 80 U3A members. GA members have been sent the link for the first three and they are on our website. I have had a lot of positive feedback about the project. I spoke briefly about this project at the GA Annual Conference and displayed a (small) selection of the material. We have held a number of zoom meetings. I am planning another one early in the new year. The next major thing is for me to write an article for Third Age Matters, the national U3A magazine. Given that my wife and I are now looking after two grandchildren three days a week, this is some way off!
In this newsletter I have included details of three soldiers, one who was killed, one who was wounded and one who survived. The level of information provided is very different. This does not mean one account is better than another. Anyone doing research on military history personnel knows that it is often down to luck. Sadly, it is often easy to find information on those who died.
The three are Albert Coward (details provided by Arthur Butterfield), Harry (details provided by Liz Vincent) and William Cartwright (details provided by Tony Cartwright).
I am very grateful for the fascinating material I have been sent. I still have just under half to go through. It helps us all to remember the sacrifice of young men and women from both sides who served in the Gallipoli campaign, particularly those who paid the ultimate sacrifice.
Ian Binnie
27/12/22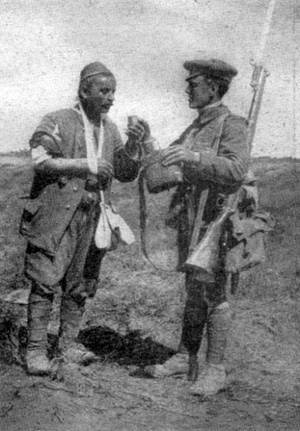 Albert Charles William Coward (details provided by Arthur Butterfield)
Arthur points out that the details he provided comes from the fantastic website isle-of-wight-memorials.org.uk.
Biographical details.
Son of: Albert Frederick Coward and Ada Coward (née Shawyer), of Carisbroo Born : 1894, Carisbrooke, Isle of Wight.
Enlisted : Newport
Residence : Carisbrooke
Census information :
1901: Albert and Ada Coward, with their children including Albert aged 7, are at 3 Kennington Place, High Street, Carisbrooke. Albert Coward is a Shoemaker.
1911: Albert and Ada Coward, with their children including Albert aged 17, are at High Street, Carisbrooke. Albert Coward snr. is a Bootmaker, Albert Coward jnr. is a Carriage and Shoeing Smith.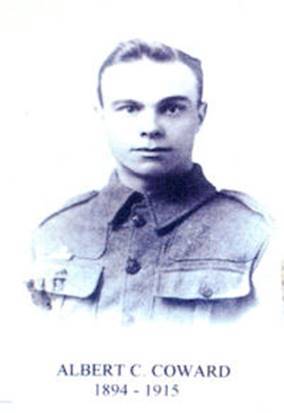 Albert was killed in action on the 29th November 1915. This was at a time when the Allied leaders had accepted that the Gallipoli campaign was a lost cause and the evacuation of Allied troops was being planned.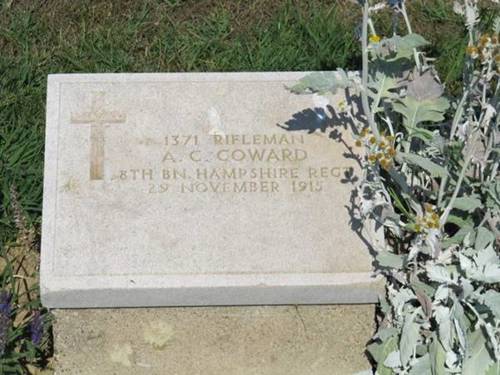 Albert Coward's grave in 7th Field Ambulance Cemetery, Gallipoli, Turkey.
The website includes articles from the Isle of Wight County Press

1st January 1916
CARISBROOKE RIFLEMAN KILLED IN ACTION
The sad news was received this week by Mr. and Mrs. Albert Coward of Carisbrooke that their eldest son Rfn. Albert C. W. Coward, B Co., aged 21, had been killed in action at Gallipoli on November 29th. The deceased was a sturdily built young man and had gone through the whole of the earlier fighting at Suvla Bay without a scratch or any sickness and his parents were therefore buoyed up with the thought that he was safe for a while, as the Regiment had returned to Egypt, but unfortunately he must have met his gallant fate a few days before the withdrawal. The deepest sympathy is felt with his parents and family. Rfn. Coward joined the Rifles previous to the war and was a fine young soldier. He was a promising and popular member of the St. John's Athletic Club, having already shown good qualities as a cross country runner and boxer. He is the first of the numerous members of the St. John's Men's Bible Class on active service to lose his life and his death is much deplored.

8th January 1916
LAST GALLIPOLI CASUALTIES AMONG ISLAND RIFLES.
C.S.M. A.C. Early, Newport, writing to Mr. James Eldridge, leader of St. John's (Newport) Men's Bible Class, on December 18th, said "We are at last out of the fire zone, and are at present at sea. The last week we were on the Peninsula we had a snow storm, so that in four months we had there the two extremes of weather ... I am sorry to tell you that we lost the first member of our Bible Class during the last few days at Gallipoli. A. Coward (Carisbrooke) was killed whilst on his way through the saps to draw rations for the battalion. This seemed very tough luck, as, if the battalion had left when it was intended they should leave, it would not have happened. Owing to the snowstorm the boats were unable to get us off and the battalion had to go back into a reserve gully for a few days. The following day, poor Coward and another were killed and a couple of others wounded. However we have a lot to be thankful for and I hope we shall all be able to join the other members of the Class and thank the One responsible."
The Isle of Wight Rifles were an old, part time, Volunteer unit which was incorporated into the Territorials. When the war broke out, the vast majority of men volunteered for overseas service and the battalion became the 1st/8th Hampshire Regiment. It in landed at Sulva Bay, Gallipoli, on 10th August 1915. The Battalion was 900 strong. On the 12th August, they were ordered to advance and occupy a ridge of hills in front of them. During the first attack, eight officers and over three hundred men were killed, wounded or were reported missing. On the 15th August they took part in an attack on the left flank of Sulva Bay. During the fighting, the Battlalion, once again suffered almost fifty per cent casualties. In September, the remnants of the battalion were transferred to the reserve trenches at Anzac Cove. In November, the weather deteriorated and violent thunderstorms and blizzards battered and drenched the soldiers of both sides. There were severe frosts and many soldiers suffered frostbite. There was also a steady stream of casualties, like Albert, to enemy action. The survivors were finally evacuated from Gallipoli on 3rd December 1915. Many of the men were suffering from dysentery. Despite being reinforced during the campaign, less than two hundred Islanders finally arrived back at Mudros.
Uncle Harry (details provided by Liz Vincent)
Liz's uncle Harry (1895-1980) was a member of the 6th Manchesters. He joined the territorials so that he could have a holiday each year! Enclosed are his letter to his mother when he was on his way back home after being injured at Gallipoli and an account that he wrote from mobilisation to working as a telephone operator. He was not fit for front line duty. After the war he trained as a pharmacist.
Liz has done a marvellous job transcribing them but was unable to read all of his writing (my handwriting is terrible!). These are fascinating and very important historical documents. The letter shows the bravery and resilience shown by most young men on both sides.
Harry's account
May 2 Left Cairo and embarked SS Ionian for Dardanelles and landed at Cape Hellles
May 6 In dugouts for two hours and then moved in rescue trenches
May 10 In second line of trenches
May 11 in firing line and lost several men and 4 officers
May 17 Relieved by the Hampshires lost two and half hours in Turkish entanglements
May 18 3 killed several wounded by snipers while going for rations had to dig in from MG fire
May 19 Relieved at 2.30 owing to the French allowing the Turks to advance too far
May 21 At the No2 Base shells kill 14 men and 7 horses
May 22, 23, 24 Road making
May 25 Relieve 5 ? in second line trenches, Turks ? bursts dam, flooded waist deep in trenches, dead Turk bodies floating about
May 28 6th Manchesters advanced 100 yards with only three casualties
May 29 8th Battalion advanced 100 yards, and lose several officers and men far more costly than the previous 100 yards
June 2 Relieved by 6th Manchesters and take e? of the Manchester Brigade
12.15 pm
June 4 Charged the Turks with fixed bayonets and take 5 lines of trenches, set fire to Krithra, we advance past trenches into the open and commenced to dig ourselves in
5.30 pm I get wounded by a small shrapnel bullet thigh broken, unable to move or crawl
6.00 pm  Owing to shrapnel fire our troops retire to the second line of Turkish trench, expecting capture. But was fortunately carried back to a Turkish trench by a corporal of 5th LFs (Lancashire Fusiliers) who was killed the same evening
June 7 was got out of trenches and taken at night to the beach no stretchers
June 8 was taken aboard the Hospital ship "Soudan" and arrived Davenport Military Hospital June 30th
Sept 30 Left Davenport for Eastbourne Convalescent Home
Nov 9 discharged
10 days furlough
Nov 26 Left Manchester to re-join unit at Margate
The 6th Manchesters were a Territorial Battalion, raised in Manchester. Again, the vast majority of the men volunteered for overseas service. On the 6th May 1915, the Battalion landed at Gallipoli with the 5th Battalion at W and V beaches, as part of the 127th Brigade, 42nd (East Lancashire) Division. They fought in the many battles on the Helles front, including at Krithia, suffering heavy casualties. On the 8th/9th January 1916 the battalion was evacuated via Mudros to Egypt. A third of the 42nd Division became casualties.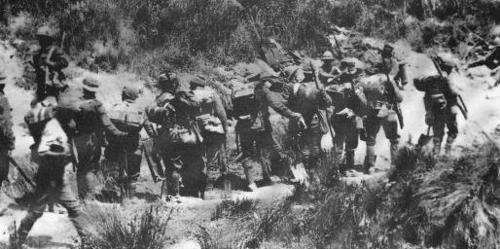 The 6th Manchesters at Krithia.
Harry's letter to his mother
My Dear Mother
I think I will just try and write you a few lines, I suppose you will have heard by the time you get this letter that I have been slightly wounded in the thigh with shrapnel, only a small wound ???? that I had the misfortune to ??? ??? after being ?? to fracture my thigh bone just a above the knee. It happened on June 4th when after a most terrific bombardment the whole of the ?? our line advanced and routed the Turks out of three lines of their trenches, we had to still go on, it was rather 'breezy' I can tell you dashing along with the bullets flying right and left but the whole of the East Lancs Terriers were simply splendid without exception. They dashed forwards just as if the doing the ordinary procedures on the desert, and from what I had seen myself and what I have since heard I believe our casualties were very heavy indeed ??? our affairs. I believe in my Battalion there were two or three that hadn't been killed outright when I left the Gallipoli Peninsular which was on the 8th June when I [was] taken aboard the Hospital ship 'Soudan' where I am at present writing these lines. We left Malta yesterday en route for England after discharging some wounded chaps there. I'll post this letter to you as soon as I get ashore and then I will let you know my address as soon as possible because I haven't the slightest idea where they will send us, the majority of the chaps aboard are naval men and they will probably go to the naval hospital at Plymouth.
Just a word about myself. I must say I have had a very lucky escape from being ex???ed by the Turks, it happened like this. We advanced a good deal further on passed the Turkish trenches, then we should done, still we stuck there and started digging a trench for ourselves and the Turks got the range and started to return our compliments of the morning, so we got shrapnel all around us, I got a small shrapnel bullet in my thigh, nothing much to worry about except that it sent my leg ?????? we managed to hold the trench for several hours, but we were terribly short of ???? and reinforcements were wanted very badly, which were not forth coming. At any rate they started retiring on our left, and of course we had no option but to do likewise, I jumped out of the trench we had made forgetting about my wounded leg, I had only gone a few feet and down I went, I tried to get up but couldn't and only for the kindness of a Corporal of the ??  fusiliers who carried me back to one of the captured Turkish trenches I should either have been riddled with Turkish bullets or taken prisoner. I was wounded on the Friday afternoon and it was Sunday morning before they got at me. I must say the facilities etc for dealing with the wounded are far from all that can be desired I will close now but don't worry at all about me I cannot grumble at all I am doing very nicely of course, I shall be on my back several weeks yet until my leg sets, but don't worry but thank God that I am alive.
I remain your loving son Harry.
William Caswell Cartwright (details provided by Tony Cartwright)
Tony's grandfather, William Caswell Cartwright (1876-1923) emigrated to Australia just before the start of WW1. His grandmother was supposed to have joined him in Australia, but never did so and she was left in rural Worcestershire to bring up two small children.
He joined the Australian Army and served at Gallipoli before being sent back to Melbourne wounded, and then invalided out of the Army. He was awarded the first two WW1 medals but never received the Victory medal at the end of the war,
Tony obtained a copy of his service record online. In 1967, the Australian Prime Minister, Harold Holt, announced that servicemen who had served in Gallipoli could apply for a special commemorative medallion. The direct descendants of dead servicemen could also apply for the medallion, so in the early 2000s Tony did so (his  father William Cartwright, who died in 1960 was one of his two children). He was advised that his Victory medal had not been issued, and was sent that medal along with the Anzac medallion. The medallion shows Simpson and his donkey; Simpson is an iconic emblem for heroism in Australia. The three WW1 medals and the Anzac medallion are family treasures, as Tony does not even have a picture of my grandfather.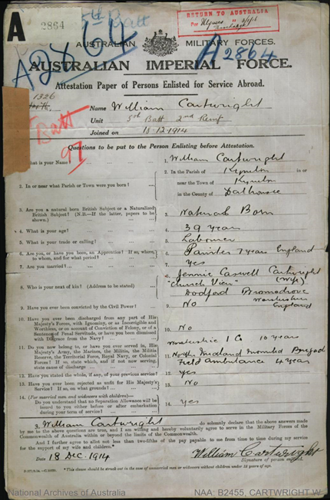 William Cartwright's attestation papers.
William joined the Australian Infantry Force on 18th December 1914, aged 39. He had been a member of the Territorials back in Britain for 10 years, probably the Worcester Yeomanry, as he mentions it was part of the North Midland Mounted Brigade. Ironically, this unit served in Gallipoli, as dismounted infantry, suffering very serious casualties on the Suvla Front.  Although Gallipoli is often (but wrongly) regarded as an ANZAC affair, a number of those serving in the AIF had been born in Britain and Ireland.  William joined the 5th Battalion AIF, which was part of the 2nd Brigade. It was made up of volunteers from Victoria. It later took part in the ANZAC landing on 25 April 1915, as part of the second wave. Ten days after the landing the battalion was transferred from ANZAC to the Helles front to help in the attack on the village of Krithia. The attack captured little ground but cost the brigade almost a third of its strength. The 2nd Brigade returned to ANZAC to help defend the beachhead against Turkish attacks and in August fought at the battle of Lone Pine. The battalion served at ANZAC until the evacuation in December. It went on to fight with great distinction on the Western Front.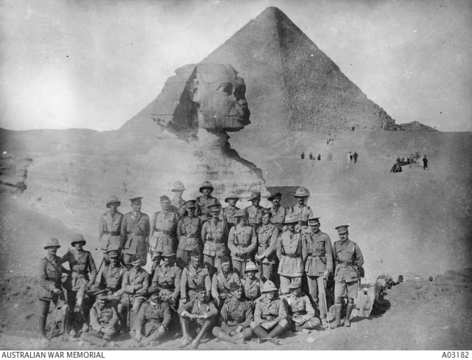 A photo of members of the officers of the 5th Battalion AIF, in Egypt, before they went toGallipoli. Sadly, very few of these would have survived the war.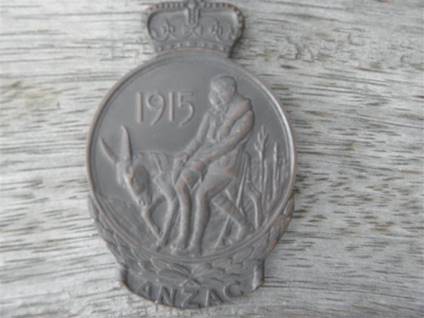 The medallion received by Tony.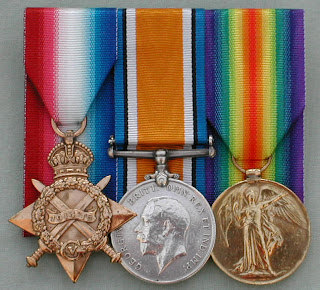 The three medals. The one on the left is the Victory Medal.