U3A Gallipoli Project - Nov 2021
Gallipoli Project Newsletter, Number 3
I continue to work through the excellent material U3A members sent me back in February. I displayed a selection of the material at the GA AGM and  Annual conference. Members were very complimentary. What follows are extracts from some of this display material.
Private Robert James Sothcott, The Princess Beatrice Isle of Wight Rifles, wounded & survived (details provide by Jill Belchamber)
Jill writes: 
Robert (Bob) James Sothcott (wrongly recorded in some records as Southcott) was born in Sandown Isle of Wight in 1896 the youngest of 11 children. On leaving school, Bob had a job with the Post Office.  In 1911 he joined the Territorials.  At the commencement of WW1 aged 18 he left the Post Office and enlisted with The Princess Beatrice Isle of Wight Rifles in Sandown. This battalion became the 1/8th Hampshire Regiment. On the 30th July 1915 the I.of.W Rifles left Liverpool on the ship RMS Aquitania arriving at Mudros on the 6th August. Then on the 10th August they landed at Sulva Bay, Gallipoli. 
They landed just before daylight and soon went into battle. "The Turks were up on "Chocolate Hill" we were in the valley and had to try to get up there", he recalled. "The attempt cost us. I reckon there were 300/400 killed or wounded out of the 1,400 strong Sandown Group I was wounded with shrapnel in my knee and was stretchered to the hospital ship". He and other comrades remember going without tea or cooked food throughout the fighting.
Following the evacuation from Gallipoli (3rd  December 1915) we understand that Bob returned home but then went with the remaining IOW Rifles and the Hampshire to Alexandria in the Mediterranean, was wounded again and returned home to Haslar Hospital, Gosport. I have a telegram sent to his mother from Haslar Hospital in Gosport to say he had been operated on for a serious back wound and although doing well was seriously ill. We also know that he had septicaemia and all his teeth were removed.  Bob did recover and was discharged from the Army in 1917 as no longer physically fit for war service.
My brother, who immigrated to Australia following 25 years in the Royal Navy was told by Bob that just before they evacuated Gallipoli they were ordered to destroy all their equipment and animals.  Bob and others could not kill the donkeys so at night crept out and released them into the hills (probably a court martial offence if they had been caught). Something else he told me was that he was on a train (with whom and when I don't know but he did work on the Post Office trains in WW2), when it was blown up and he was thrown out. This could have been when he was wounded in Egypt.  The shock turned his hair white.  He told me that he was put in a pit (probably a crater) over night with several other seriously injured men. When gleaning information bit by bit it is difficult to put a timescale or location to work out when and where things happened.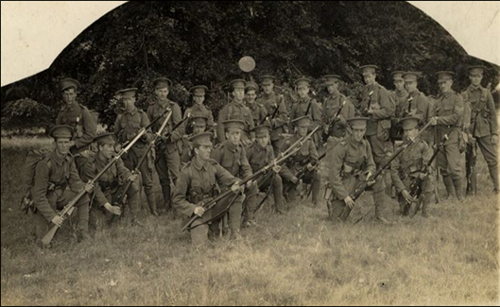 A group of men of the Isle of Wight Rifles, probably at Cassiobury Park, Watford during training prior to embarkation to Gallipoli, 1915.
Copyright © 2021 Isle of Wight Family History Society.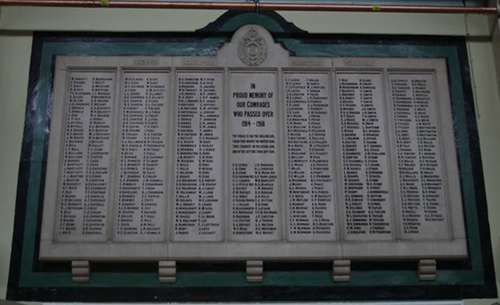 The memorial to the IOW Rifles in Newport, IOW, with 526 names.
Private Michael Mordue, 6th Battalion, Yorkshire Regt., missing, 22/8/15 (details provided by John Everett)
John writes:
Private Michael Mordue enlisted in 1914 and joined the 6th Btn. Yorkshire Regiment. He joined the Gallipoli campaign and took part in the Suvla Bay landing. He was posted missing on 22nd August 1915, later confirmed killed. He is commemorated on the Helles Memorial for those who have no known grave.
From the Newcastle Journal, 25 September 1915:
Horden Man Missing.
Mrs Mordue, 17 Eden Street, Horden, Durham county, has been informed that Private M. Mordue, of the 6th Yorks, was posted as missing after an engagement on August 22nd.
This letter also appeared in the local press:
FACING CERTAIN DEATH IN THE DARDANELLES.
Pte. Mick Mordue, of the 6th Yorks, writing from the Dardanelles to his wife, Mrs Mordue, of 17, Eden Street, Horden, says:-
'Just a few lines hoping you are all keeping in the best of health. I am pleased to say that I am all right myself, thanks be to the Lord. We left our camp to go into action last Friday, August 6th, and I shall never forget it. We had to make a new landing on the Peninsula. Arriving about 10 O'clock at night we found the Turks were waiting for us. They rained bullets at us as we were coming off the boat. Our Colonel and Captain got shot straight away. I am sorry to say that Billy Belcher got killed about 20 minutes after we landed. We got our orders not to fire, but use the bayonet only. It was just like facing certain death, but our regiment, who were the first to land, never faltered. We got the order to charge, and we did not forget to either. I am the luckiest man alive. I was with Billy Belcher and another five of our section, and I am sorry to say all of them were shot by my side. How I escaped the Lord above knows. You can tell Mr Bob Belcher that Billy died like a hero. We have never faltered since Friday night until today (Thursday), when we are back out of the trenches. I have not much more to tell you. Only tell my mother how I am getting on. Keep your heart up, because I think I am sure to pull through now after the escapes I have had. So now I shall conclude. Give my best love to all.'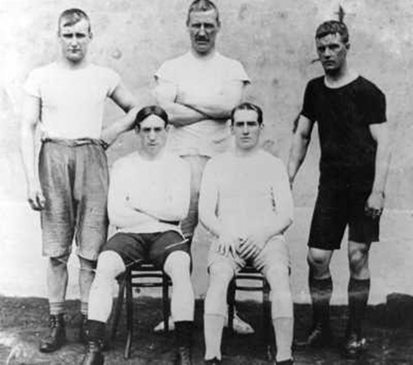 A group of handball players in 1914 with Micky Mordue seated right and Micky's brother Jacky seated left, standing behind are the Stones brothers against whom the Mordue brothers played 'four hands against six'.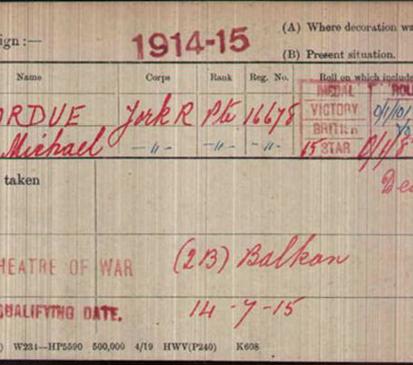 Michael Mordue's medal card.
Horace Bower, 10th Battalion Australian Light Horse, KIA 7/8/15 (information provided by Rosie Kyles)
Rosie writes:
George Bower was a farmer who was born and bred in Mattersey, Notts. He married Jane Mason in 1880. They had eight children. One of the sons, Horace, born in 1893 emigrated to Australia in 1913 under a Government Scheme to farm and settle there. His last known address was Westonia, Yilgarn Goldfields, Western Australia. In January 1915 he joined the 10th Australian Light Horse at the outbreak of war. He was killed on 7th August 1915 at Walker's Ridge, aged 22.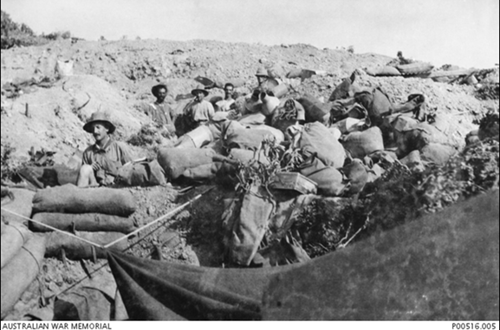 The 10th Australian Light Horse at Walker's Ridge.
An article in the Retford times 8th October 1915.
The first intimation that George Bower of Mattersey Woodhouse Farm, received of the death of his son, Trooper Horace Bower, was through noticing his name in the list of casualties in a local paper. He was advised to communicate with the Military Records Branch of the Commonwealth of Australia at their offices in London and by doing so discovered that the sad news was, unfortunately only too true. Consequently, any hope that an error had been made was totally dispelled. Mr Bower was quite aware that his son had answered the country's call, though far away in West Australia, as in a letter to his father stated that he had enlisted as he though he would "like to have a slap at those Germans." This was last January and later Mr Bower learned that the young patriot was on his way to the seat of war. The father imagined he might be coming over to England first, and that he might get a glimpse of his loyal son, but the next news stated that he was in Egypt and in time came also the information that he was bound for the Dardanelles. Having been reared in the quiet solitude of Mattersey, Woodhouse Farm, the young fellow whose life has been nobly sacrificed for the land of his birth, his natural inclinations were for farming, and about four years ago he decided to try his luck in Australia, and in company with two other young men bound on the same errand he took up land, and after the necessary preliminary work of clearing and felling, began to make progress.  
Still, as an Englishman, his heart beat true to the call of patriotism and letting his share of the farm. He rallied with others around the "Old Flag," determined to hold up the cause of the Empire, even if as he unfortunately proved to be the case, his young life had to be sacrificed. Mr George Bower who is now well on in years has received many expressions of sympathy in his sore trial. Apart from the hero who has died at the age of 23 for the honour of his native country.
(additional Research by Colin Dannatt)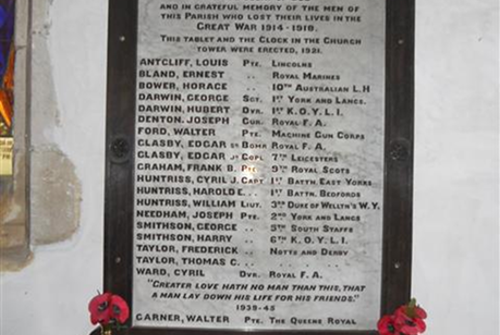 Horace Bower commemorated on the memorial in All Saints Church, Mattersey, Nottinghamshire.
Private George Marchant, ASC, survived (details provided by Freda Longman)
Freda writes:
My father, George Marchant, enlisted at Chichester on 7th October 1915 into the Army Service Corps as a baker. An occupation in which he work for his whole life. At Devonport, on 5th November 1915, he embarked on the HMS Andonia for Gallipoli. He disembarked at Mudros on 18th November and was posted to the 13th Field Bakery. On 22 January 1916 he embarked at Mudros on the SS Princess Ena and disembarked the following day at Salonica where he was posted to the 41st Field Bakery. From May to September of that year he was admitted to various hospitals with malaria, dysentery and fever (in Greece and Malta). He finally arrived back in the UK on 28 September 1916. He served the remainder of his service in the UK until he was discharged in July 1919. We have found these details online. It was not a subject that was discussed at home and he was already in his 50's when I and my siblings were born.  He died in 1972.  Because of his experiences he never did travel abroad again after the war.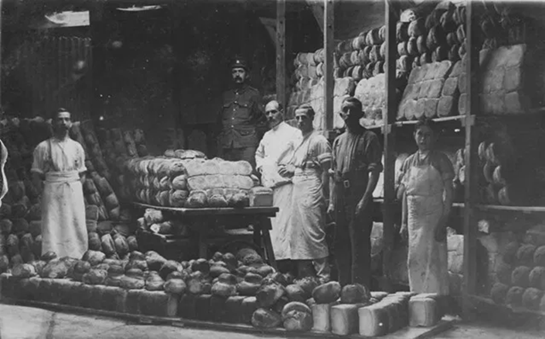 A rare picture of Service corps bakers. Remember an army marches on its stomach!
Talks and tours
A number of U3A members have joined the monthly Gallipoli Association Zoom talks. The next one is:
From the Dardanelles to Caspian Sea, the Life of Eric Gascoigne 'Kipper' Robinson VC
Wednesday, 24th November 2021, at 7.30 pm UK time
(Conference open from 7.15 pm)
The talk will be presented by Clive Harris and Chaired by Ian Binnie, GA Education Coordinator.
The talk will last one hour, with time for questions.
To reserve a place, please email: education@gallipoli-association.org or warwickfus@btinternet.com
Finally, the Gallipoli Association are planning two tours of Gallipoli in May 2022. My wife and I took part in one of these in 2019 and really enjoyed it. The peninsula is a beautiful place and the Turks extremely friendly and welcoming. The guides are excellent and can usually tailor the itinerary to suit the interest of the group.
Ian Binnie