U3A Gallipoli Project - Apr 2021
As Education Co-ordinator I am always looking for ways of engaging with people, of whatever age and background with an interest in Gallipoli. On occasions this has been with young people in schools and colleges. At other times this has been with adults, through community groups. Engaging with anyone during lockdown has been difficult. I have been looking at ways of engaging with people on line, hence our new series of monthly Zoom talks. In February I wrote a letter to the national University of the Third Age (U3A)* journal, Third Age Matters, asking if any members had relatives who served in Gallipoli. Just under 60 members did so. The wealth of material that I was sent was fantastic.
It has taken me over a month to respond to each member individually. Their emails ranged from queries about research and the campaign, to copies of documents and photographs and, in some cases, very detailed research.
Some of the group joined me at a Zoom meeting in March and had a most enjoyable time talking about the campaign, research they had done and some of the individual stories. I will be producing an occasional newsletter for the group.
I hope also to produce a static display of photographs and documents for the annual Conference in October.
The project has been most enjoyable. It confirms my view that there are many people around the country with a great interest in Gallipoli
U3A member Barbara Milne, sent me material about her grandfather, Richard Dawson. He served in a medical team (Barbara has no other details) and survived both Gallipoli and the rest of the war. He was originally from Oswaldtwistle/Accrington in Lancashire. He left a long hand written account of his time in Gallipoli, which Barbara has transcribed. Here are two extracts: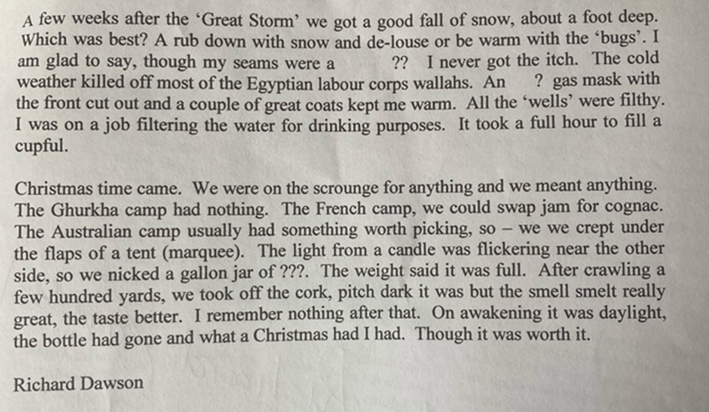 Some respondents pointed me to websites that contained details of their relatives. Arthur Butterfield sent me this link to a site which includes details of his relative Rifleman
A.C. Coward, who served with the 8th Btn. Royal Hampshire Regiment. He was killed on 29th November 1915.
Memorials and Monuments on the Isle of Wight - Turkey : Gallipoli : 7th Field Ambulance Cemetery : A C Coward (isle-of-wight-memorials.org.uk)
Simon Henderson sent me details of his two great uncles, Rupert and Alan Henderson, who served in the 7th Battalion of the First Australian Imperial Force (AIF) and were both killed at Gallipoli. The account takes the form of a series of letters that were compiled by his aunt, Margaret Henderson. You can see these on Gallipoli Diaries compiled by Dr Margaret Henderson (familytreewebsite.co.uk)
Some U3A members have actually gone into print. Pat Francis has written about her father, who joined the Royal Marines and survived the war. The book is available on Amazon!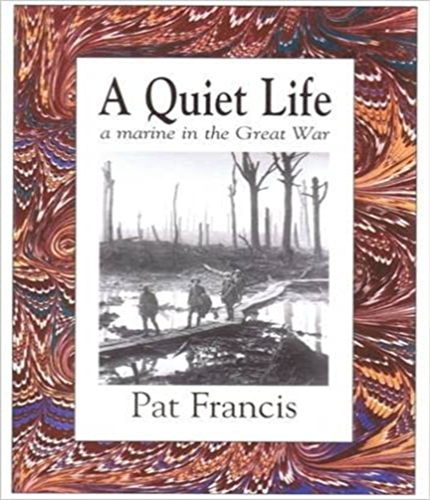 Brenda Linney sent me details of her great grandfather, Sgt Frederick Holcroft, of the 1/7th Manchesters. He died 04/06/15. I find the picture of him enjoying himself in Egypt before departing for Gallipoli particularly moving.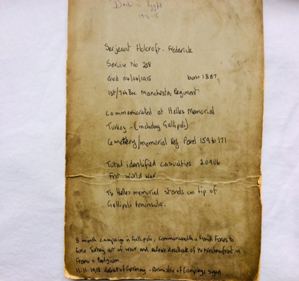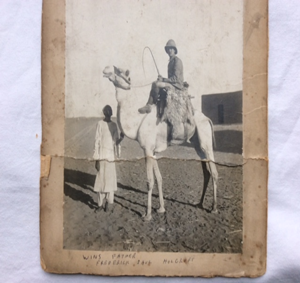 Mary Barnes sent me a photo of a cartridge case her grandfather Harry Barnes gave her. He served in the Royal Engineers. He wrote the history of his short time in Gallipoli on a roll of paper inside. She transcribed his account and also a poem he wrote. Here are the last two verses.
It did not finish there, the Padre
Started up again -We therefore
Commit his body to the deep etc
Another shuffle and another splash.
Again the Padre's voice, again a shuffle
Again a splash, recurring time on time
Until I lost all count.
I asked later an orderly how many men
Had been committed to the sea that sunny morning.
He said in an accustomed voice "eighteen".
So I had heard eighteen times the committal words
And eighteen splashes; the army's end to
Eighteen brave men who had resolved
To face all that might be, to save old England.
There was no conscription then.
Only dugout fossils called generals
Who counted men expendable, and made a fuss
If by chance a horse was killed – but men!!!
They came in their thousands and died in thousands too.
She wrote that "I don't think Grandpa ever recovered from his despair at the mis-management and loss of life".
These are just some of examples of the really interesting material that has been sent me. I will be making more of it available to GA members at different times. I thank all the U3A members for taking the time and trouble to respond. If any GA members wish to be involved they are most welcome but have to be paid up members of the U3A or overseas equivalent.
Ian Binnie.
14/4/21
*for overseas members this is a U.K. organisation which brings together mature, mainly retired people, who wish to further their education informally, in groups.