Education Report - Jun 2021
We are now almost halfway through a very difficult year. As members will know from the statement by our Chairman, James Stopford, a number of online activities have taken place. Below is a summary of the work I have been doing.
U3A Project: the letter published in the national U3A journal, inviting members who had a relative who served in the campaign to contact me, produced over 60 responses. I have been sent a lot of really interesting material. I have produced two newsletters for this group and have held two Zoom meetings. Information has also been included in our new on line newsletter. I hope to produce a display for the October Conference.
On line "roll of honour": due to the (very enjoyable) work involved in the above, I have had to scale this project back. The original plan was to invite GA members to submit details of their relatives who had served in the campaign and to begin producing a series of booklets. I am now using details provided by a number of people (some of whom are members) whom I have worked with over the last two years, with the aim of writing a series of articles for the Gallipolian. Hopefully the first instalment will be in the next issue.
Zoom talks: these have been taking place since the Regional Conference and have gone very well. We have had between 50 and 75 attendees for each one. The feedback from the chat and emails sent after has been excellent. The list of the remaining talks for 2021 are elsewhere in this newsletter.
Anzac Day: a number of small scale live events took place across the world. I helped organise an event in Birmingham, the first since 2015. I am aware of a number of online events also took place. Well done to the organiser.  I produced a short video clip, which is now available on our YouTube Channel.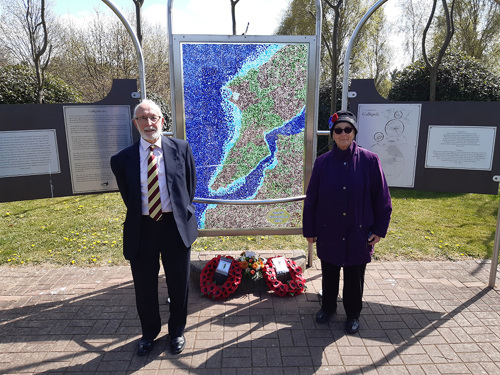 Anzac Day at the National Memorial Arboretum
Gallipoli Island: the original project has now finished. The GA's involvement in the redevelopment brought us some excellent publicity. Trustees are considering the erection of a memorial or memorials, to the 13 V.C. winners from the 29th Division. We are exploring the possibility of having this memorial in the grounds of the local church. This will mean that, without forgetting the main memorial, commemorations can take place in the safety of the churchyard rather than the participants having to brave the dangers of the A45. Any members who wish to be involved in this project are welcome to contact me
Project with schools: due to the pandemic there have been no projects involving schools this year. If any member has links to a particular school and thinks it would be profitable for me to approach staff, to discuss a possible project, please contact me.
Electronic links with Turkish, Australian or New Zealand Schools: at the start of the lockdown I tried to contact various Australian teacher groups, without success. I will seek advice from some of our members "down under" to progress this. I will be emailing some of the overseas contacts made through the Zoom talks.
School visit to Gallipoli 2021: for obvious reasons, the plans to support a school on a tour to the peninsula have been shelved. The money from sponsors and donations has been very carefully kept. It is planned to support a tour by students from North Dulwich Charter School in 2022.
Projects with military museums: I have maintained close links with a number of museums who have been positive about developing projects. However, museums are just re- opening. I hope to begin the planning for future projects shortly. A volunteer at the Staffordshire Regiment Museum has been appointed the museum champion for 2021. We are still supporting a project at the Soldiers of Gloucester museum. This is now going to be a digital display on the Gloucesters and the campaign.
Project around commemorations: commemorations have been severely curtailed due to the pandemic. I hope to develop projects around the Essex Regiment Day and the Qatia commemoration in Worcester, although these events may not take place this year.
Walking tour of city/town: a Gallipoli themed virtual tour of Warwick has been produced and is now available on our YouTube Channel. It was "premiered" at one of the Zoom talks organised by the Fusilier Museum in Warwick. It is hoped to develop this into a "real" during the Heritage Open Days in September. Work has started on a new tour of Worcester. This should be completed by mid October.
Research project with community group: I have developed good links with the Friends of Brandwood End Cemetery in Birmingham. Members of the group have done some very interesting research which will be put into a booklet. We intend to have a large scale ceremony next year, involving local community members and schools. I hope to identify a community group or groups through the U3A contacts.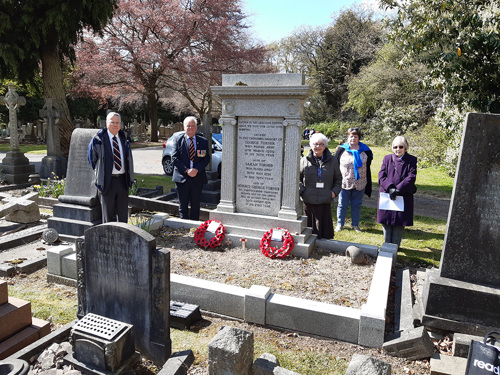 Anzac Day at Brandwood End Cemetery, Birmingham
Post graduate bursaries: there were no applicants for financial support in 2020-21, despite a positive response from the universities concerned. I will try again in October 2021.
Generic teaching material:  I am currently working with a member to develop on line teaching material, initially focussing on the story of Simpson and the donkey and then the Gallipoli Oak. We have commissioned a professional artist to do some graphics. I also have permission to use an electronic version of the story of Trooper Potts, from the Victor comic. I aim to produce teaching material on this, involving, if possible the Trooper Pott's Memorial Trust. Stephen Chambers has suggested producing a guide for teachers on places to visit in the UK with a Gallipoli theme. I will pursue this idea. Any members with suggestions of places are welcome to contact me.
Billy Unsworth Booklet: attempts to get the local community, in Salford, involved in this have not been successful. The booklet is under way. We aim to involve the local community in a launch when the booklet is completed.
Lancashire Fusilier memorial bench: the bench should now be in place on Littleborough Railway Station in Rochdale. I hope to develop a project with local schools and community groups. It has been suggested that we explore the possibility of memorial benches on other railway stations. Members with ideas of suitable stations are again welcome to contact me.
Brune Park Memorial Garden: I have been unable to contact the school regarding this project.
Ian Binnie, Education Co-ordinator
June 2021