HELLES - Colonel G H Edington, MD, the commanding officer of the 1/1st Lowland Field Ambulance, 52nd (Lowland) Division - From the Western Front news had reached the allies of the beginning of the Second Battle of Champagne which opened on 25 September 1915. Known to the British as the Battle of Loos, their first great offensive of the war in France, it began well, but finished in the same stalemate that would become the norm.
Casualties for the French were horrendous, dwarfing those suffered during the whole of Gallipoli. The British also suffered severely and here debate began criticising the war on two fronts, blaming Gallipoli for draining the BEF of valuable resource that could have made the offensive successful.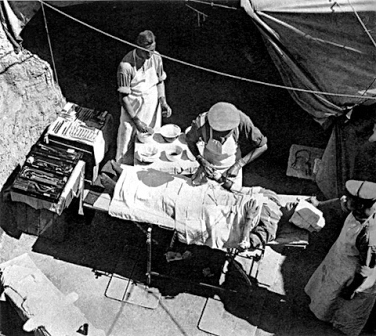 This argument was also made by Hamilton, who wrote repeatedly about the want of men and shell. It is only supposition to argue this today, I doubt that the outcome would have been any different.
For Edington, the focus was the placement of the Field Ambulances at Helles and discussing giving the Turks a fair chance of shelling troop movement, but not the field ambulances.
"The news spread that the French in the Champagne district had made a large haul of prisoners, and by midday we received the following order from HQ. At 1900 today all troops will give three cheers for the French Army to celebrate its gallant and successful advance in France. A battery in each artillery group will fire a salute of 21 guns on selected objectives, commencing at the same time. Copies of French and British War News have been issued to you."
"In the afternoon a pow-wow of various medical commanders took place in our camp on the question of a re-arrangement of the Ambulance Camps. These camps four in number (1st, 3rd and 2nd Lowland and 1st RNDFA) extended across the Peninsula in an almost continuous zone, intersected by the roads leading from the beach up to the trenches. Rumours had it that the authorities considered that this disposition of the medical units did not give the Turk a fair chance of shelling troops coming up from the beach. As a result of the conference, the 2nd LFA received notice to shift to the rising slope in rear of the 1st LFA. This move, after four weeks of strenuous digging-in in his then site, was strongly opposed by Lieutenant Colonel Moffat, and ultimately he was allowed to remain he was."
"As evening fell we were all on the qui vive, and at 7 o'clock prompt there was a brilliant display of star shells on our front, accompanied by prolonged cheering throughout the lines. The Turk, not knowing what all this might portend, promptly "got the wind up", and loosed off a furious fusillade of rifle fire, which caused us considerable amusement."
SOURCE:
G.H.Edington, 1/1st Lowland Field Ambulance in Gallipoli, (Macdougall, Glasgow: 1920), pp.48-49.