ANZAC - Captain Eric Donald Wolton, 1/5th Suffolk Regiment, 163rd Brigade, 54th Division, IX Corps - The battalion took over the lines on Hill 60 during the morning of 14 November in preparation for a mine explosion under the Turkish positions.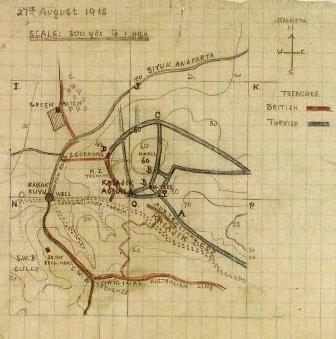 "At 5 p.m. on November 15th the mines were exploded. At the same time the Turks were subjected to a very heavy artillery bombardment and machine-gun fire. A gigantic fountain of earth shot up and as, in spite of a protest on our part, we had to man the front line only about twenty yards from the Turks, 1 man was killed and 8 badly bruised by the falling debris, while others had to be sent to hospital suffering from shock. Large working parties immediately sapped forward and established bombing posts within a few yards of the crater, where they did good work shooting and bombing. The Turkish losses must have been considerable, and their artillery and machine-gun fire became very active. The night was spent in continual bombing fights and sniping, and an enemy patrol that approached our trenches was severely handled, 3 being killed and 1 wounded and captured. The explosion of the mine did not benefit us at all, for as we were ordered not to occupy the crater, the Turks did so. The 'sides being raised ten feet above the ordinary level gave them good command over our trenches and they made things very unpleasant for us at times. One man was killed, 9 wounded, and 8 sent to hospital during this time. Four thousand rounds of S.A.A. and 712 bombs were expended."
Not a positive result for the British that day.
Ref: "Some Experiences of the 1/5th Battalion The Suffolk Regiment TF On Gallipoli" by Captain E D Wolton, as published in The Gallipolian No.47, Spring 1985, pp.20-21.
SOURCE:
A copy of a map held in the War Diaries of the 29th Inf Bde, 10th (Irish Div)