SUVLA - Captain John Gillam, Army Service Corps, 29th Divisional Supply Train - Next day, on 14 November Kitchener, the Secretary for War visited Suvla Bay where Gillam missed the chance to meet the great man.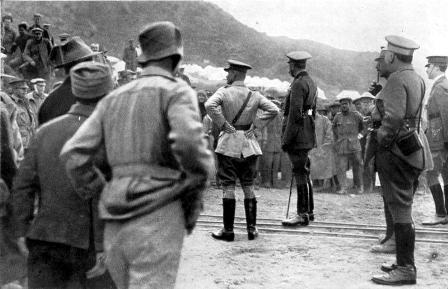 "A bit of a gale blowing. Another quiet day, absolutely no shelling. Kitchener arrives here at three o'clock with Staff. Was up Brigade with Home at the time, and so missed the show; but my sergeant told me about it. He landed at little West Beach, walked through the Main Supply depot, and then past our depot, up IX Corps Gully to the top of the hill, and had a good look round the positions. He was only here about two hours. Tommies came running up and stood in groups at attention, while their CO's and officers saluted, and he passed along saluting gravely right and left, now and again stopping to look at some dugouts. There is now general satisfaction that Kitchener has been and seen for himself what things are really like here. No shelling of the beaches while he was on shore, but the low lands were being shrapnelled."
SOURCE:
J. Gillam, "Gallipoli Diary", (Stevenage, The Strong Oak Press, 1989), p.265.