ANZAC - Charles Bean, War Correspondent, Headquarters, MEF - Charles Bean had been hard at work on December 11 creating the Anzac Magazine, the work that soon became 'The ANZAC Book'. Initially thought of as a New Year magazine for the troops on the Gallipoli peninsula, however, the evacuation of the forces lead Bean into creating a book to commemorate the time spent by the ANZAC troops at Gallipoli.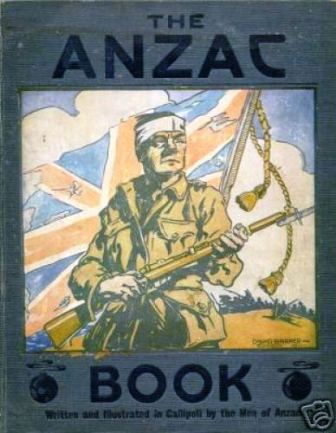 The ANZAC Book' was published in 1916 from illustrations, poems, stories and other creative works from the soldiers on the Gallipoli peninsula. As early as November 1915, Bean called for contributions for the publication. Bean edited the work on the island of Imbros and after the Greek publisher fell through, arranged to have the work published in London by Cassell and Company. The book is composed of satirical and sombre pieces about the conditions of life at Gallipoli. It also provides a general outline of the April 25 landing at ANZAC Cove and the military advances, offensives and defensives undertaken in the following months until the eventual evacuation of the Allied forces at the end of December 1915.

"The Turks were curiously quiet all today. The ships fired 700 shells of 6-inch and over into the Olive Grove. Today the engineers are making a pair of floating piers this side of Snipers' Nest. I left for Imbros by the destroyer which brought over General Birdwood to Anzac for the day. I showed him the Anzac Magazine and he said to me as we were talking afterwards 'It's going to be a very anxious time, Bean, I should not at all wonder if we finished winter in Egypt. They are taking this invasion of Egypt very seriously, and if they think we are not holding up enough Turks here, and they are merely leaving a small army to face us, and we cannot do enough to justify our standing, I suspect they will send us all off to defend Egypt. It will be a very anxious time.' So possibly he is in the dark as to what is really going to happen."
Well, Birdwood was not in the dark concerning the evacuation, as this was relating to a general fear within the upper echelons of command over a major Turkish attack in Egypt. To defend this threat how would the Mediterranean Expeditionary Force (MEF) be used? If the MEF maintained a presence on the Peninsula, would it serve a purpose by holding down a large body of Turkish troops? Probably not, and thus the fear was that Turkey would be renewing its interest in Egypt. 
SOURCE:
C. E. W. Bean quoted by K. Fewster, "Gallipoli Correspondent: The Frontline Diary of C. E. W. Bean" (Sydney: George Allen & Unwin, 1983), p.244.