ANZAC - By 28 April the physical exhaustion of the 1st Australian Division was evident and Hamilton had agreed to assign four battalions of the RND returning from their diversionary duties at Bulair to hold the line while Birdwood's units reorganised and got a little desperately needed rest. The Anzacs, always confident in their own manhood, decried the physical immaturity and callow state of the marines, who were largely speaking wartime recruits and by no means the finished article as soldiers.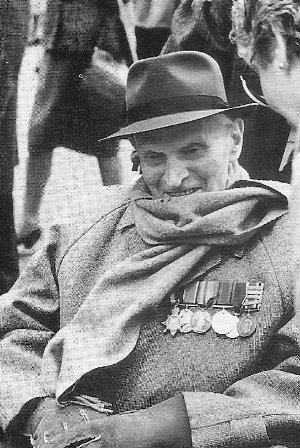 Photograph: Harry Baker taken by Nigel Steel at the Cenotaph, 25 April 1989.
As Private Bertram Wilson found they were to face a severe challenge when they began to take over the line between Courtney's Post and across 400 Plateau on the night of 28 April. In the pitch dark, with the rain pouring down and contradictory orders seemingly shouted from all sides, they scrambled up the near vertical scrubby hillside and took over trenches that were often still choked with the dead and wounded.

"What confusion! Everyone shouting orders or asking for this or that battalion. Our Battalion waited for a guide to conduct them to the trenches. It was now pouring with rain. At last we commenced to move up in pitch darkness. The wounded were coming down on stretchers in a continuous stream. It was hard work scrambling up this hill in dense scrub. We were utterly worn out." (Private Harry Baker, Chatham Battalion, Royal Marine Brigade, RND)

Next night there was more confusion, but eventually Wilson was ordered to take his Vickers machine gun up into the firing line.

"No one knew exactly where we were wanted or how to get there. It was a hard climb our hands were torn with the scrub. We arrived below the crest of the hill at 8pm. Orders came back to me that I was to remain where I was, the trenches were so full of dead and wounded that it would be difficult to move. I must have dozed off to be awakened but the voice of an Australian sergeant shouting, "Give them a good 3 feet!" I looked up and saw them dragging dead Australians over the crest and burying them close by where we were lying." (Private Harry Baker, Chatham Battalion, Royal Marine Brigade, RND)

It was a terrifying introduction to warfare at its most basic. Also with the Chatham Battalion was Private Harry Baker who I interviewed for the IWM back in 1985.

"We took up these positions in the dark. We were along the top of this ridge and there was what you might call a ditch about two feet deep which the Australians had dug along the top and made a kind of trench but there was very little protection there. Every few yards lay a dead man so you had to crawl over him to take up your position. There were quite a number of dead men there you could feel them and see them. That's not a very nice experience. Self preservation was the main thing and you had to keep your head down as much as possible. The lower you could get the better it was. I can assure you it was very steep just like a railway embankment all around with scrub and bush and trees - not very big trees but oddly enough quite a few that were like Scots firs. They hadn't managed to clean up all the snipers. There were still snipers in this bush behind the front line. They used to pick quite a number of men off before they got wiped out because they couldn't get out once they were behind the front line and we picked them off gradually. What you used to watch for in the dark was to see where the flash came from which betrayed where they were and we picked up quite a number like that."

By this time the Turkish reserves had also begun to arrive. In accordance with General Liman von Sanders overall 'tripwire' plan of light of employing only light coastal detachments to hold up the landings as best they could, thereby allowing the main body of troops to arrive and launch the decisive attacks intended to throw the invaders into the sea on the night of 1 May. But there would be several more low key attacks in the preceding nights On 30 April the Chatham's noticed the Turks beginning to collect in Wire Gully ready for an attack.

"The second day the Turks began to attack in the afternoon in huge numbers en masse. They came out of this scrub like rabbits towards you and - Oh my word! - we had a tough time repelling that. I'd got two men loading for me and I kept firing these rifles and they didn't get within fifty yards finally. I reckon if you missed one you'd probably have the next man. Mind you, you didn't get too much time to aim. You'd got to get on with the job. It was all over in minutes. They were heaped up wounded and dead." (Private Harry Baker, Chatham Battalion, Royal Marine Brigade, RND)

There was considerable controversy afterwards as to whether the Turks had actually attacked the Chatham Battalion that night and the Australians accused the Marines of abandoning some of their trenches in the sector on MacLaurin Hill and some of the outposts in Wire Gully were lost. Baker took a very different view of events! Whatever the truth of it, there was far worse was to come for the young marines. 
---
ANZAC - Lance Corporal Walter Parker, Royal Marine Light Infantry, Royal Naval Division earned the Victoria Cross for his bravery during 30 April - 1 May 1915 during the ferocious fighting at Anzac. He did not receive his decoration for over two years. When it was published in the local newspaper, it was reported as follows.
"A NOTTS. V.C. HERO - HOW HE WON THE DISTINCTION"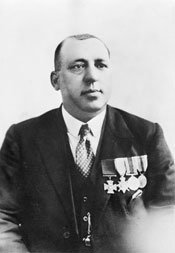 "Lance-Corporal Walter Richard Parker, of 14 Brookhill-terrace, Stapleford, is to-day a proud man - and the town in which he lives is equally proud of him - for he has by his "gallant conduct in the face of the enemy" gained that most coveted of all distinctions, the Victoria Cross, which is to be presented to him in person by His Majesty the King. Two years have passed since Lce.-Cpl. Parker performed the service which has now been duly, if somewhat tardily, recognised; and the official intimation must therefore have come to him last week to some extent as a very pleasant surprise. The following is a copy of the communication received by him from the Admiralty:-
"Sir, - I am commanded by my Lords Commissioners of the Admiralty to inform you that, after full enquiries made, with regard to a report which they have received of your gallant conduct in the presence of the enemy, on the night of 30th April - 1st May 1915, at Gaba Tepe, Gallipoli Peninsular, whilst serving as Lance-Corporal in Royal Marine Light Infantry, Portsmouth Battalion, they have recommended to the King, and his Majesty has been graciously pleased to approve, the award of the Victoria Cross to you, in recognition of your services on the occasion in question.
The award will be announced in the "London Gazette" in due course.
A further communication will be made to you for your attendance to receive the decoration above mentioned - Yours obediently, W. Graham Green."
"Lance-Cpl. Parker is the eldest son of Mr. Richard Parker and the late Mrs. Parker, of Lime grove, Stapleford, and is 36 years of age. Within a month or so of the outbreak of war, viz., on September 7th, 1914, he answered his country's call. Immediately after joining the colours he was attached to the Portsmouth Division of the R.M.L.I., and was sent in due course to Gallipoli.
"Whatever may be worthily attributed to other forces at the landing, there must and can be no losing sight of the salient fact that the Royal Marine Infantry rendered splendid service at the Dardanelles.
"We were in and out," says Parker, "both night and day, attending to the wounded, and rendering first-aid to the injured. Having been at work in the Hospital some time, Col. Luard, Capt. Syson, and Capt. Morton came in quietly and called for a volunteer to go down to one of our own companies which was enfiladed. All of us realised the task was almost super-human." Lance-Cpl. Parker was the senior N.C.O. on duty. To leave the company amongst which were many men wounded and probably dying for lack of medical assistance was a terrible thought. As no volunteers were forthcoming, Stapleford's hero himself volunteered. The time for the attempt to bring relief to their fellow-comrades drew near. He began to work his way from trench to trench for some considerable distance, when he was suddenly confronted and threatened by an Australian officer that if he did not return from such a forlorn mission he would shoot him dead. Regardless of this, he proceeded on his journey. To reach his goal he had to pass an open passage, upon which, day and night, Turkish machine guns were ceaselessly playing. The gallant V.C. ran through this deadly trap, and, running down the hill into a place called the Valley of Death, fell into a pond at the bottom. The next thing which aroused his failing sense was the tremendous cheering of the officers and men of his battalion, which was enfiladed also. He was the first man to go down and render them assistance, using every bandage and other equipment with which he had set out, so that none remained to dress his own wounds. He stayed with these troops throughout the night - a night which gained for Lieut. Alcock the D.S.C.; and the same night as Lieut. Hempson, the gallant little officer, was killed. That same night the Turks made a desperate charge, which compelled the British to retire slightly. After taking cover for some considerable time he was eventually located by the Turks, and shot in several places; but crawling to the top of the hill, almost exhausted, he was ultimately carried in by the stretcher-bearers of his own division. After reaching the beach Lance-Cpl. Parker was placed upon the s.s. Gondola, a temporary hospital ship, and taken from thence to Alexandria, and from there home. After a time, Lance-Corporal Parker was taken to the Royal Naval Hospital, to be attended by naval doctors; and on his discharge from hospital was sent to barracks, where the gallant V.C. was taken ill with brain fever, which badly affected his sight, and he received his discharge on the 17th June 1916." 
---
DARDANELLES - Lt-Commander Henry Hugh Gordon Dacre Stoker - Submarine AE2, commanded by Irishman Stoker, was on its way to rendezvous with Lt-Commander Edward Boyle VC and Submarine E14, just off Kara Burnu Point in the Sea of Marmara. For Stoker and his crew their luck was quickly running out. Stoker surfaced at the prearranged point and noticed a Turkish torpedo boat approaching from the west. He immediately dived AE2 to avoid detection, but it was too late, his submarine was spotted.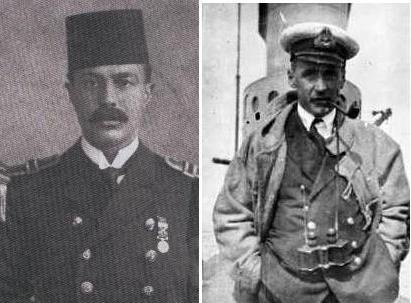 The Turkish boat was Sultanhisar, commanded by Captain Ali Rıza Bey with predominantly a German crew. Riza had only just been ordered to return to Istanbul because another torpedo boat, Basra, was on its way to replace them, when their luck was about to change. At around 8.00 am on 30 April, when she was off the Marmara Island, a crew member of the Sultanhisar spotted a submarine surfacing. Riza immediately gave the order to open fire on the periscope and gave chase. He recalled the action:
"I did not want the enemy to escape; I was certain that we had damaged the submarines periscope with our shots. I was circling around the point where I had last spotted the submarine,, hoping to see her again. Suddenly I heard one of my men shout: "Its surfacing!". I saw the big black shadow of a giant monster surfacing right in front of our ship. Our distance to the submarine was approximately 1500 metres. I gave instruction to start firing and immediately put the engine at full speed, approaching the already submerging monster. At the same time I saw a torpedo rushing towards us through the water like a dolphin breaking the waves, missing us by only a few metres." [Ali Rıza's account does differ at this point when compared to Stokers official report. Stoker argued that he did not fire any torpedoes".
The AE2 was in trouble and damaged. Riza had fired his last torpedo, the first fell overboard, whereas the second was a miss. It looked to Riza like the submarine was going to escape when it started to emerge once again, almost in front of Sultanhisar. Riza recalled:
"This is when I read 'AE2' along her side. I thought something must be wrong, otherwise why would she surface so recklessly. Having no torpedoes left, we continued firing our cannons. I did not have much hope in fatally damaging the submarine by cannon fire, so I decided to ram into the 800-ton monster with my meagre 93-ton boat, hoping to tear a hole in her big hull. At that very instance, I saw a British flag being raised and sailors coming out on deck and diving into the sea. The last sailor on board, whom I later learned to be the captain of the submarine, was standing on the deck of the sinking vessel and saluting the flag. I felt a deep respect for this brave man performing his last duty for his beloved submarine. I sent two dinghies to pick up the sailors and the captain. I instructed my sailors to be gentle with the enemy and show them the traditional Turkish hospitality as much as could be appreciated in the circumstances. When the captain of the enemy submarine came up on board, I shook his hand and introduced myself as Ali Riza. He introduced himself as Captain Stoker."
AE2's war was over, and Stoker and crew were on their way to spend the next three and a half years in a Prisoner of War camp were treatment was not always 'gentle'. Unfortunately, four of AE2's crew would not be returning, their bodies remain interred in Turkish soil. For Turkey this little action would be turned into a great propaganda boost, and would make Ali Riza a national hero.
SOURCE:
Brotherton Special Collections Library, Leeds University, Liddle Collection: Bertram Wilson, Typescript diary, 28/4/1915-29/4/1915, 'Mansfield and North Notts. Advertiser', 22nd June 1917, AE2 Denizalti Gemisini Marmara'da Nasil Batirdim? (How I Sank the AE2 Submarine in the Sea of Marmara) Publisher unknown, Istanbul 1947