Report on Anzac Day on Lemnos 2016
We have pleasure to post a short report and photographs from this years' Gallipoli Anzac Day commemorations on the important island of Lemnos, Greece, from our Gallipoli Association representative, Dimitris Boulotis.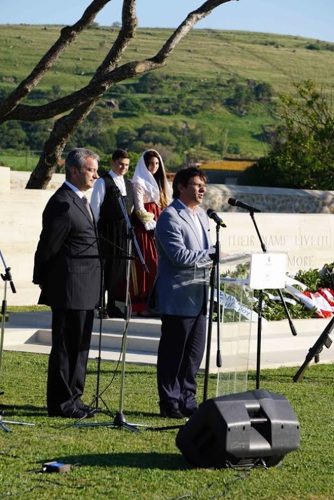 The main event took place at East Moudros Military Cemetery in at 17:30 of April 21, 2016. There was an honorary platoon from the Greek Army present as well as (according to the Greek protocol) a representative of the Government, representative of the Regional Government of North Aegean, the Military Commander of Limnos, representatives of Australia, France and New Zealand, representative of the Australian Armed Forces, the Mayor of Lemnos, representatives of the Associations of Veterans, the Gallipoli Association,  local associations (some with traditional costumes) and many people.
The event started with a Memorial Service by Orthodox priests and then we laid wreaths in protocol order; the representative of the Hellenic Government, the representative of the North Aegean Region, the Mayor of Lemnos, the Consul of New Zealand and the chairman of the local branch of Red Cross, addressed a short speech.
The keynote speaker was Major General Mr. Kamnis, vice-President of Athens War Museum. Finally, children's choirs sang "Imagine" by John Lennon and a Greek folk song for those who left away from their homeland. The event ended with the national anthems of the countries represented and a solo from Army Trumpeter.
After the event the representative of the North Aegean Region hosted a small reception at Moudros Harbour, where he gave memorabilia to those who took part in the event.
For more photos from the event please visit the facebook page of "Lemnos' Friends of ANZAC".
Dimitris Boulotis,
Lemnos