Newfoundland Regiment 100
On Sunday 20th September 2015, 100 years to the day, the Newfoundland Regiment landed at Gallipoli. Members Margaret and Steve Moore attended the Newfoundland Regiment centenary commemoration services that were held at Suvla on this very day. Services were held at Kangaroo Beach where the regiment landed and at Hill 10 and Azmak Commonwealth War Graves Commission cemeteries were many of the lads are buried.
Margaret said "hearing the bugler playing the last post in such isolated and quiet areas was very moving, as was seeing the fresh faced young soldiers". Their forebears would have been of a similar age.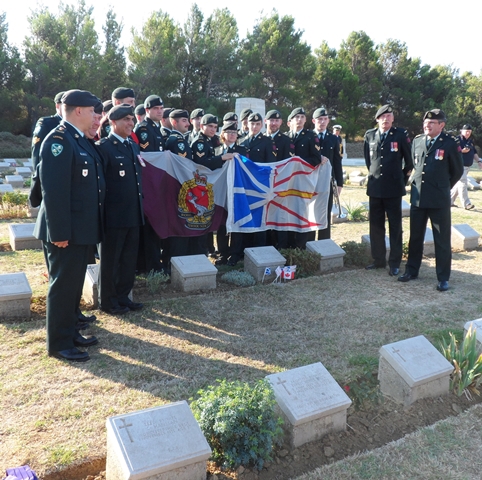 Left: The Newfoundland Regiment at Hill 10 CWGC Cemetery on 20 September 2015.
During the First World War Newfoundland was a largely rural Dominion of the British Empire with a population of 240,000, and not yet part of Canada. The outbreak of the First World War in 1914 led the Government of Newfoundland to recruit a force for service with the British Army. Even though the island had not possessed any formal military organization since 1870, enough men soon volunteered that a whole battalion was formed, and later maintained throughout the war. The first recruits in the regiment were nicknamed the "Blue Puttees" due to the unusual colour of the puttees, chosen to give the Newfoundland Regiment a unique look, but quickly abandoned when the 1st 500 reached England in October 1914. The regiment trained at various locations in the United Kingdom and increased from an initial contingent of 500 men to full battalion strength of 1,000 men, before being deployed. After a period of acclimatization in Egypt, the regiment was deployed at Suvla Bay on the Gallipoli peninsula with the 29th Division in support of the Gallipoli Campaign.
On 20 September 1915 the regiment landed at Suvla Bay on the Gallipoli peninsula. At Gallipoli the 1st Newfoundland Regiment faced snipers, artillery fire and severe cold, as well as the trench warfare hazards of cholera, dysentery, typhus, gangrene and trench foot. Over the next three months thirty soldiers of the regiment were killed or mortally wounded in action and ten died of disease; 150 were treated for frostbite and exposure. Despite the terrible conditions, the Newfoundlanders stood up well. When the decision was made to evacuate all British Empire forces from the area, the regiment was chosen to be a part of the rearguard, finally withdrawing from Gallipoli with the last of the British Dardanelles Army troops on 9 January 1916. With the close of the Gallipoli Campaign the regiment spent a short period recuperating before being transferred to the Western Front in March 1916.
Many thanks to Margaret and Steve Moore for this information and the photographs of the event.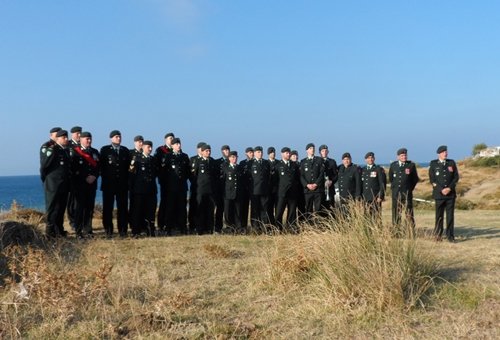 Above: Newfoundland Regiment at Kangaroo Beach, Suvla, 20 September 2015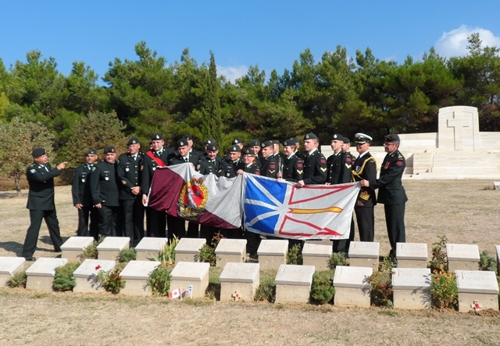 Above: Newfoundland Regiment at Azmak CWGC Cemetery, 20 September 2015.