Remembrance Sunday, November 2015
REMEMBRANCE DAY – LONDON CENOTAPH CEREMONY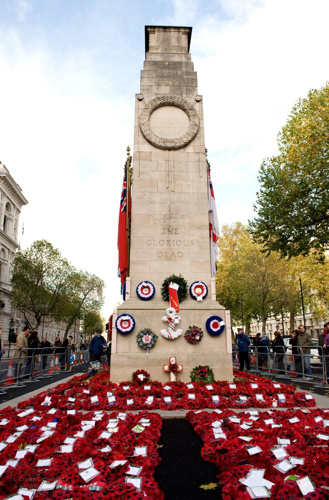 For the fifth year running, on 8th November members of the Gallipoli Association took part in the Remembrance Day Parade and March Past at the Cenotaph in Whitehall, London.
The Association was allocated 18 places and marched as part of the 'Civilian Column' whose contingents formed up on Whitehall outside the Old War Office Building prior to the Parade. Our contingent co-ordinators were David Mason and Stephen Chambers, who formed the left and right markers respectively; the left marker handing the Association wreath to the British Legion 'wreath taker' on passing the Cenotaph.  
Left: The Cenotaph (photo credit: Crown Copyright)
This year we were joined by Ana Simoes Baiao  from the Islington Museum and Martin Shuttleworth, a teacher at the Tufnell Park Primary School, Islington, together with pupils Charlie Colgan Ruby Collison, Amy Ekeh and Natalie Kuper. The museum and school were invited as they are part of the Gallipoli Centenary Education Project and they also had a wreath laid. The main aim of the project is to increase young people's understanding of the Gallipoli Campaign and those involved have been working with schools all over the UK to this end. The children were extremely well behaved and attentive during the long wait in Whitehall before the service began and really enjoyed the event, especially the "Eyes Right" command at Horse Guards when they were in touching distance of  HRH The Prince William.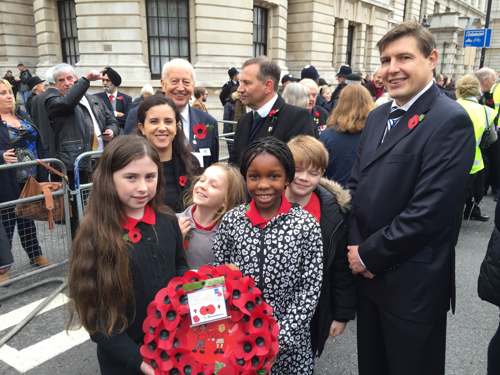 Left: Martin Shuttleworth and pupils from Tufnell Park Primary School, Islington (photo credit: Stephen Chambers)
The public attendance was noticeably greater than in previous years, with a number of spectators recognising the 'Gallipoli' name.  As was the case last year, the television coverage continued after the service contingents had passed the Cenotaph and the Gallipoli Association and David Mason received a mention.   Afterwards, we were invited by one of our contingent, Donna-Marie Kirk-Sargeant, Consular Adviser at the New Zealand High Commission to visit the rooftop suite at New Zealand House where we were treated to breath-taking views over London. Following this, those able to do so met for lunch at The Admiralty PH in Trafalgar Square.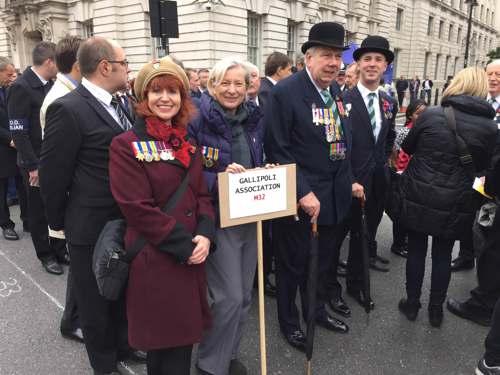 Left: Gallipoli Association contingent forming up at Whitehall (photo credit: Stephen Chambers)
Below: The Gallipoli Association and Tufnell Park Primary School Group (photo credit: Stephen Chambers)
Marching with The Gallipoli Association this year were Patrick Burke, Stephen Chambers, John  Duckworth, Tim Fearn, Vicki Genrich, Sally Puffer, Donna-Marie Kirk-Sargeant , David Mason, David McDonough, Sir Charles Napier Bt, Mark Palot, Lt. J James Lawrence Rojeck, Colin Wagstaff, Ana Simoes Baiao, Martin Shuttleworth and the children from Tufnell Park Primary School.
We are hoping to attend this event again in November 2016, so if you would like to join us, please let us know as soon as possible.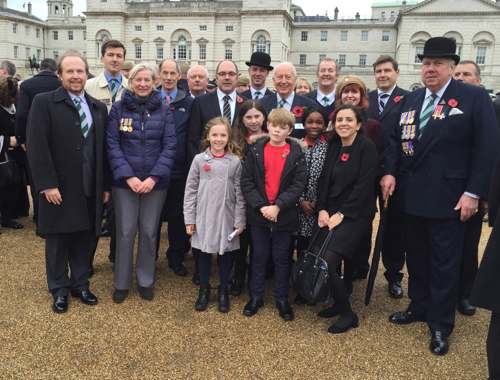 ---
---
Foster Summerson
Gallipoli Association
November 2015