29th Division Centenary Commemoration
Gallipoli troops of the 29th Division commemorated 100 years after being presented to the King.
On Sunday, 15th March 2015, a commemorative service was held at the 29th Division monument near Stretton-on-Dunsmore in Warwickshire. It was here in March 1915, that the troops of the 29th Division took the salute from King George V prior to their departure to Gallipoli. Just over 100 years later, representatives of the 12 regiments and several descendants of those men came together to remember their forebears and all those men of the 29th Division who left England for Gallipoli in 1915, many of them never to return. This service was organised by the Gallipoli Association and Rugby Borough Council. The difficulties of holding a commemorative service on a busy road traffic island meant that the service was limited to approximately 100 attendees by invitation only.

Above: A selection of the many wreaths laid around the Monument (photo credit: Keith Edmonds)
Those representing the regiments of the 29th Division included regimental associations and museums from all around the UK and Ireland, as well as serving personnel of the Royal Welsh Fusiliers who were there to honour the 2nd Bn, The South Wales Borderers.
The Lord-Lieutenant of Warwickshire, Mr. Timothy Cox, attended the service and laid a wreath, and the Bishop of Warwick, The Rt. Revd John Stroyan conducted the service.  Wreaths were also laid by the Chairman of the Gallipoli Association, Captain Christopher Fagan, the Mayor of Rugby, and the MP for Rugby and other local dignitaries.  Other wreath layers included descendants of men who were inspected by the King on that day in March 1915. Mrs Anne McCarthy was there to remember her father Cuthbert H T Lucas, the Brigade Major of the 87th Brigade, as was Mr Patrick Hayes whose father was one the 1st Battalion Royal Dublin Fusiliers. The event was coordinated by two members of the Gallipoli Association who themselves had forebears there in 1915. Mr James Watson Smith's Great Uncle was Col E. P. Smith who was commanding the 17th Brigade RFA and Mrs Lyn Edmonds' grandfather was Pte Benjamin Hurt, a Royal Dublin Fusilier. The occasion was completed by a civic reception, hosted by Rugby Borough Council.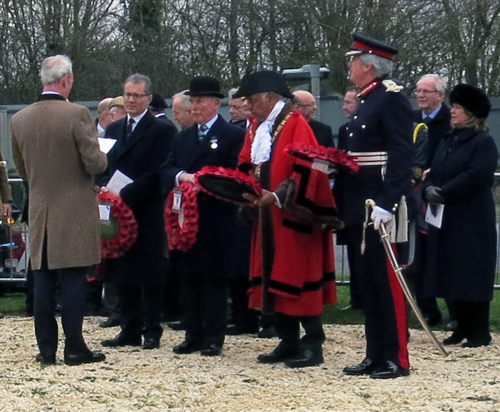 Above: The Lord-Lieutenant of Warwickshire, the Mayor of Rugby, the Chairman of the Gallipoli Association and the MP for Rugby (from right to left) - (photo credit: Lyn Edmonds)
---
Lyn Edmonds
Gallipoli Association
March 2015