The Gallipolian - Winter 2015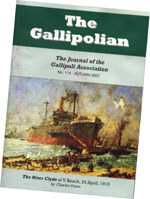 The Winter 2015 issue of The Gallipolian (No. 139) will be published in early December. It contains reports on the Collingwood Centenary Parade and centenary commemorations in Hawick and Northern Ireland.
Also featured are articles on the unveiling of a 'blue plaque' to James Somers VC in Co. Cavan, the dedication of a plaque commemorating the Gallipoli campaign in Boston, Lincolnshire and the commemoration of Pte. Alfred Cutler of the Worcestershire Regiment at Bartley Green in the West Midlands. There is also a report on the Association's Centenary conference in June.
Also in this issue are articles on the Assault on Scimitar Hill, and about Lt. Alan Bennett DSC who took the submarine E2 into The Sea of Marmara.  The edition also contains the first instalment of a previously unpublished journal kept by Robert Fryer of the Portsmouth Bn, RMLI who was captured at Gallipoli and spent the rest of the war as a prisoner in Anatolia. There is much else of interest including articles on individuals, memorials and the usual selection of Book Reviews.  Included with the issue - as a separate report – is an update on the Gallipoli Centenary Education Project.
---
Foster Summerson
Gallipoli Association
December 2015